Spicy Vegan Cheeseburger
Bored of the same burgers over and over again? This spicy burger recipe will make you change your mind. It's easy, delicious and 100% vegan!
Prep time

25 min

Servings

Portions 15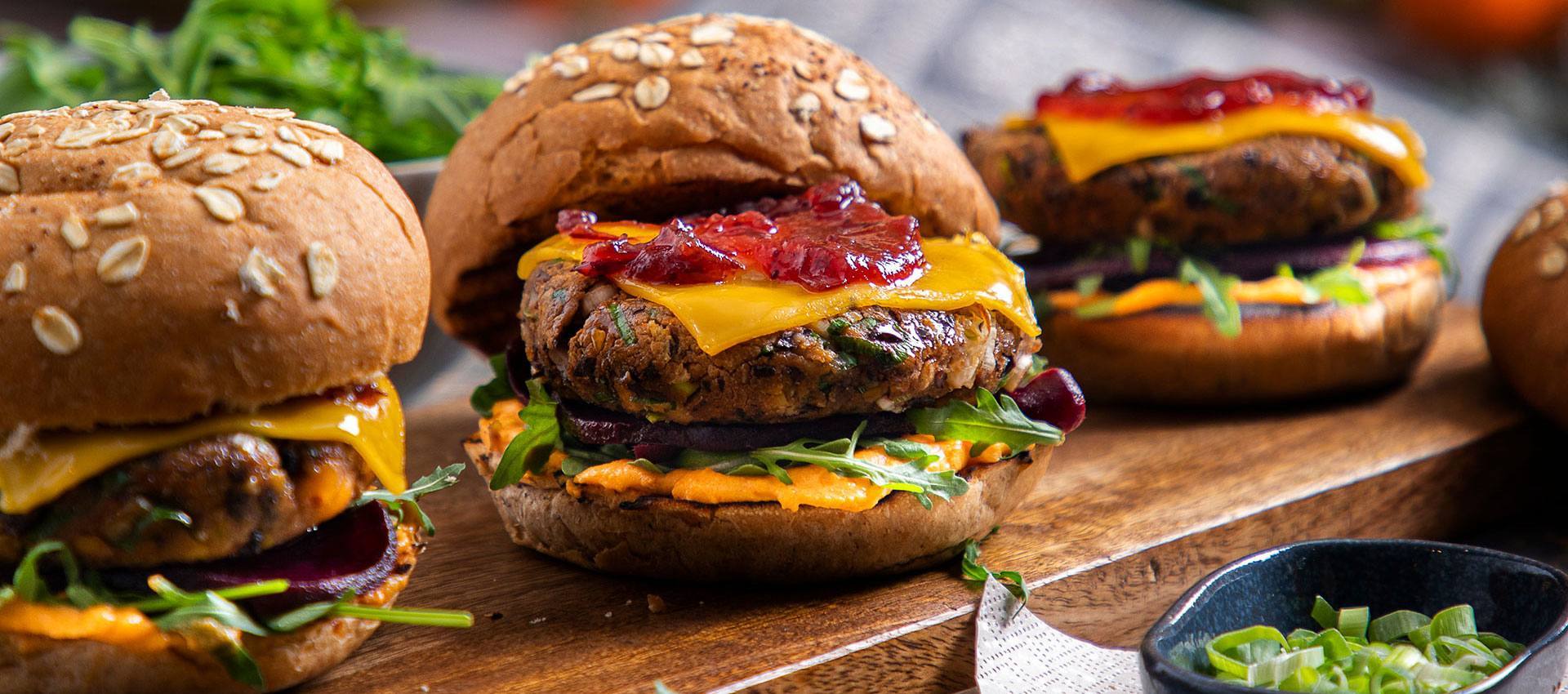 FOR THE BURGERS:
1 pack Violife Just Like Mature Cheddar slices
6 whole meal burger bun rolls, halved
14.1 oz can black beans, rinsed and drained
14.1 oz can chickpeas, rinsed, drained
2.4 oz panko breadcrumbs
3.5 oz cooked beetroot, thinly sliced
3 radishes, thinly sliced
2.1 oz rocket leaves
1 bunch spring onions, chopped
1 red chilli, chopped
plain flour
cranberry sauce
2 tbsp olive oil
1 tsp smoked paprika
1 tsp cumin powder
salt and pepper
FOR THE RAITA SAUCE:
1 pack Violife Just Like Cream Cheese Original
1 tbsp flat-leaf parsley, finely chopped
Juice of 1 lemon
1 tsp harissa
Add the spring onion and chili in a food processor and blitz. Place in a large mixing bowl, add the beans, paprika, cumin, panko, chickpeas and flour and mix with your hands until combined. Season with salt and pepper. Divide the mixture into 6 patties. Place on a lined baking tray and bake at 356°F for 10 minutes. Remove from the oven and place 1 slice of Violife on top of each patty, placing back in the oven for a further 3 minutes until it has melted.
To make the raita combine all the ingredients in a bowl and season to taste.
Place the sliced burger buns in the oven to heat and then spread some raita on the base of each burger bun. Top with rocket leaves, beetroot, the Violife burger patty and top with a dollop of cranberry sauce. Close each burger with its bun and serve.