Cauliflower Tacos
The best Cauliflower Tacos! Easy to make meal that's full of flavors and so satisfying with Violife Just Like Cream Cheese and Violife Shreds.
Prep time

25 min

Servings

Portions 4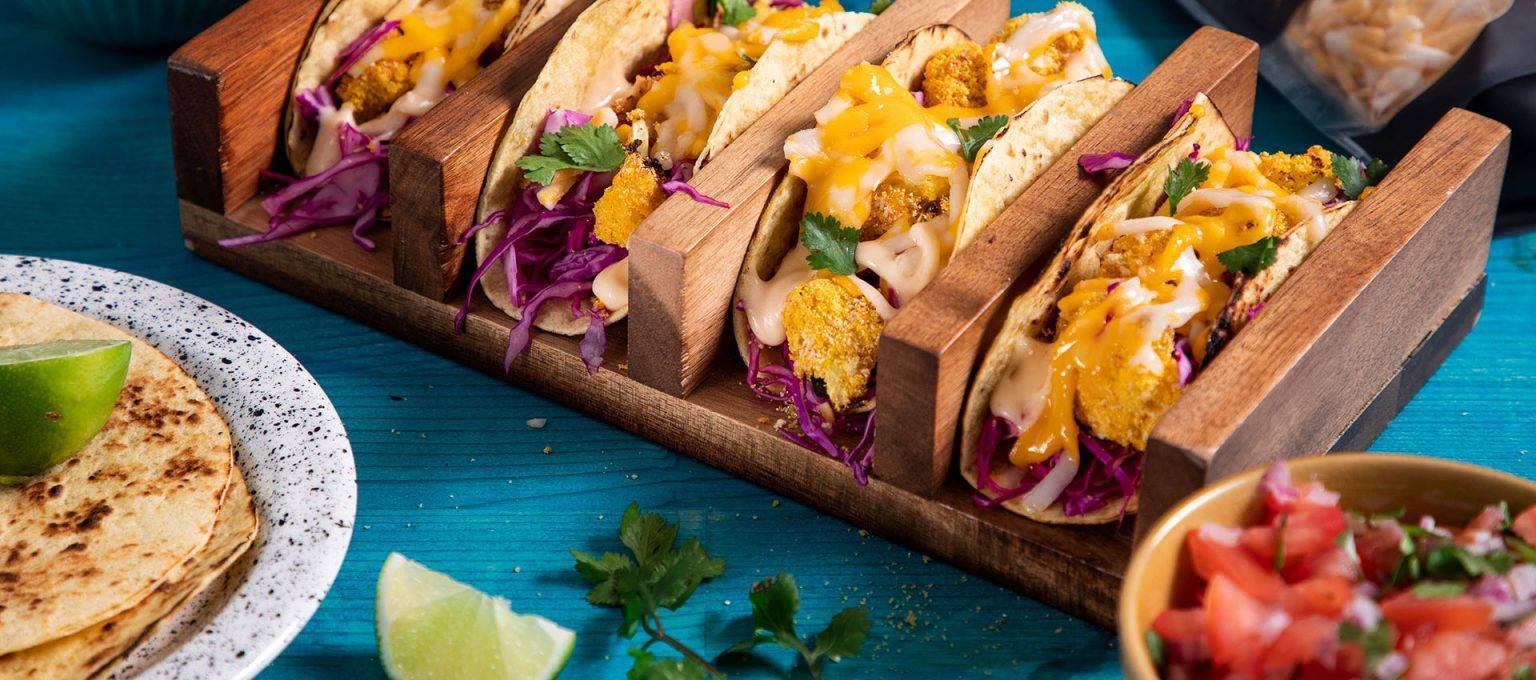 FOR THE CAULIFLOWER:
1 tbsp Violife Just like Cream Cheese
1 cauliflower in florets
1/2 cup panko breadcrumbs
1/2 cup cornmeal
1 tsp cumin
1 tsp paprika
1 tsp garlic powder
1/4 tsp turmeric
salt and pepper
1 tablespoon olive oil
1 tablespoon maple syrup
FOR THE SAUCE:
7.05 oz Violife Just like Cream Cheese
3 tbsp sriracha sauce
FOR THE CABBAGE:
2 cups red cabbage shredded
juice of 2 limes
1/2 tsp cumin
FOR THE TACOS:
8 oz Violife Just like Colby Jack shreds
8 corn tortillas
fresh coriander to garnish
lime wedges
Preheat oven to 356°F.
In a small bowl, mix panko, cornmeal, cumin, paprika, garlic powder, turmeric, and salt.
In a separate bowl mix olive oil, Violife Just like Cream Cheese and maple syrup.
Dip the cauliflower florets into the olive oil mixture and then dip into the panko mixture. Place on a lined baking tray and repeat with the remaining cauliflower.
Bake for 30 minutes.
In a bowl mix cabbage, lime juice and cumin and set aside.
Meanwhile, warm the tortillas in a frying pan on both sides.
For the sauce, mix Violife Just like Cream Cheese and sriracha sauce with a whisk and add a spoonful to each tortilla. Top with cabbage, cauliflower and Violife Just like Colby Jack shreds.
Garnish with coriander and lime wedges.