Vegan Picnic Basket
This Picnic Basket is all you need on the weekends! Puff pastry filled with veggies and Violife. Perfect for sharing with your loved ones this summer!
Prep time

15 min

Servings

Portions 24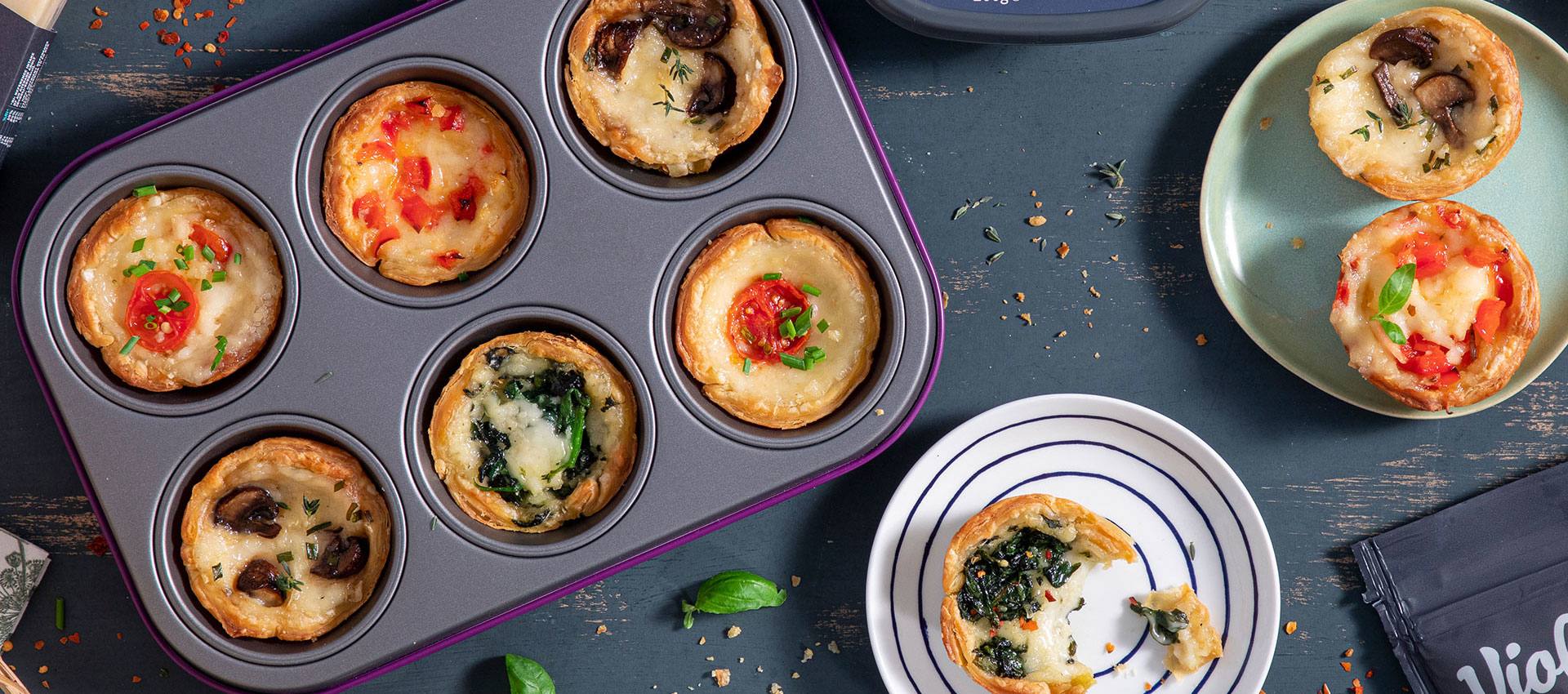 2 puff pastry sheets
1 tsp vegetable oil
FOR THE VIOLIFE MIXTURE:
8 oz Violife Just Like Mozzarella Shreds
2.5 oz Violife Just Like Cream Cheese Original
5 oz Violife Epic Mature Cheddar flavor Block, grated
5.29 oz Violife Just Like Parmesan, grated
thyme sprigs
Pepper, to taste
FOR THE FILLINGS:
4.2 oz spinach, sauteed
3.5 oz mushrooms, quartered
1 red bell pepper, cubed
3-4 Cherry tomatoes, cut in slices
FOR THE TOPPINGS:
1 tbsp of Basil, torn
A pinch of Chili flakes
1 tbsp of Chives, chopped
Preheat oven to 356°F.
Grease a muffin tin with vegetable oil.
Lay out the puff pastry sheets and use a round cookie cutter to make circles, which will fit into your muffin tin.
In a large bowl, mix well all the ingredients for the filling and divide into 4 different smaller bowls. In one bowl add the spinach, in the other the mushrooms, in another the red bell pepper and in the last one the cherry tomatoes.
Using a spoon, place the fillings into each muffin tin.
Place in the oven for 25-30 minutes. Remove from the oven and from the muffin tin and sprinkle with the toppings.
Place in a picnic basket and share with your loved ones!