Loaded Potato Rolls
Looking for the perfect vegan recipe? Check out our loaded potato roll! There is nothing better than this melty delicious dish.
Prep time

15 minutes

Servings

6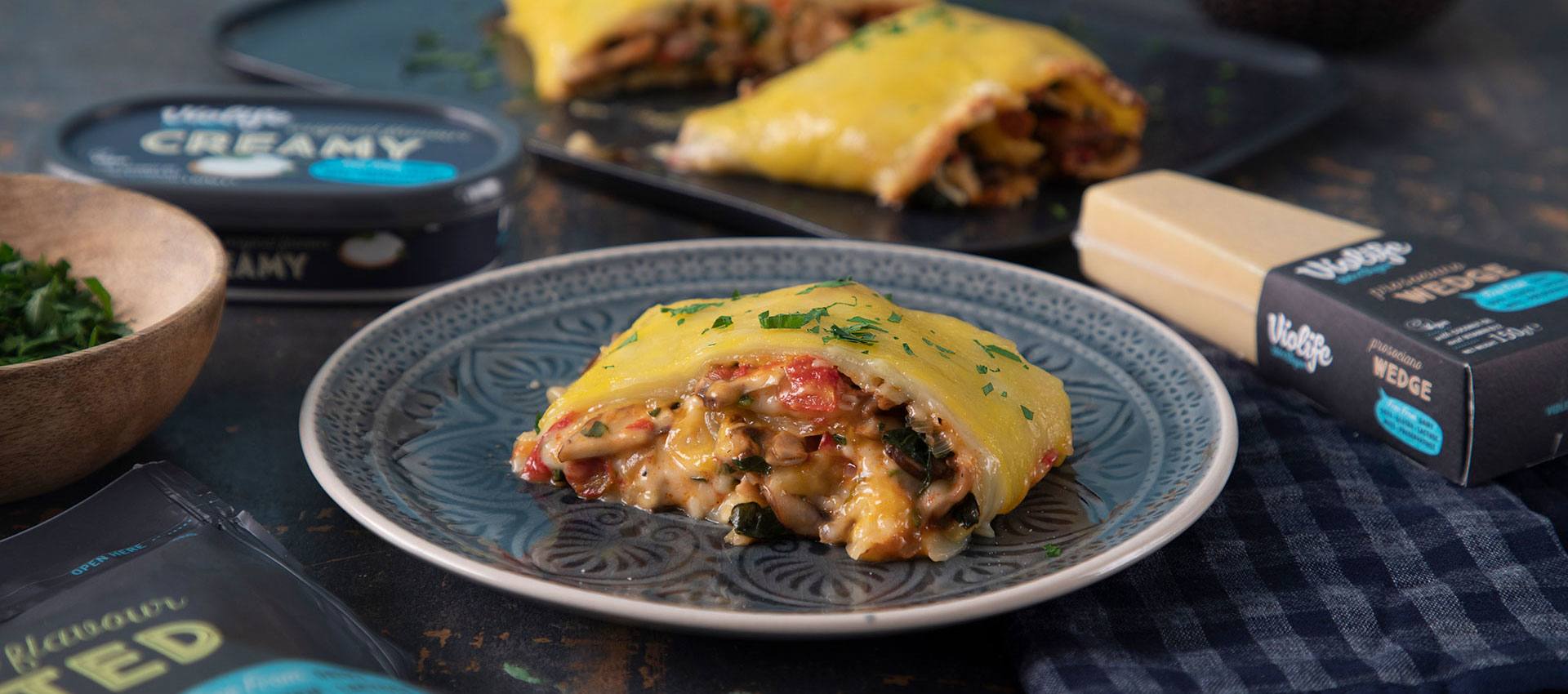 200 g Violife Original Flavour Grated
200 g Violife Mozzarella Flavour Grated
150 g Violife Prosociano
150 g Violife Creamy Original
4 potatoes, peeled and finely sliced into rounds (you can use a mandoline)
3 teaspoons salt
4 tablespoons olive oil
1 onion, diced
2 cloves garlic, minced
1 scallion, sliced
400 g mushrooms, sliced
1 diced tomato tin
240 g spinach
4 tablespoons fresh parsley, chopped, divided
1 teaspoon paprika
½ teaspoon pepper
Preheat oven at 180˚C.
In a greased and lined baking tray sprinkle half of Violife Original grated, half of Violife Mozzarella flavour grated and half grated Violife Prosociano and spread evenly.
Place the potato slices overlapping over the Violife base. Continue until the tray is filled with potatoes. Sprinkle some more of grated Violife and bake for 30 minutes, until golden.
In a frying pan, heat 2 tablespoons of olive oil over medium heat. Sauté the onion with garlic and scallions until soft and fragrant. Add the mushrooms, paprika and tinned tomato. Cook and stir for 5 minutes until the mushrooms let out their moisture. Add spinach and parsley and season well. Add a dollop of Violife Creamy and stir in. Remove from heat and set aside.
When the potato is baked, top with the mushroom mixture, spreading evenly and topping with any remaining grated Violife. Take one end of the potato baking sheet and roll over the mixture tightly.
Place in the oven again and bake for another 10-15 minutes. Serve by cutting in slices and sprinkling with parsley.