Swedish Friday Tacos
It's Friday and it means Tacos in Sweden! You don't need a reason to have tacos so we're sharing this amazing Swedish Tacos recipe with you! Enjoy
Prep time

20 minutes

Servings

2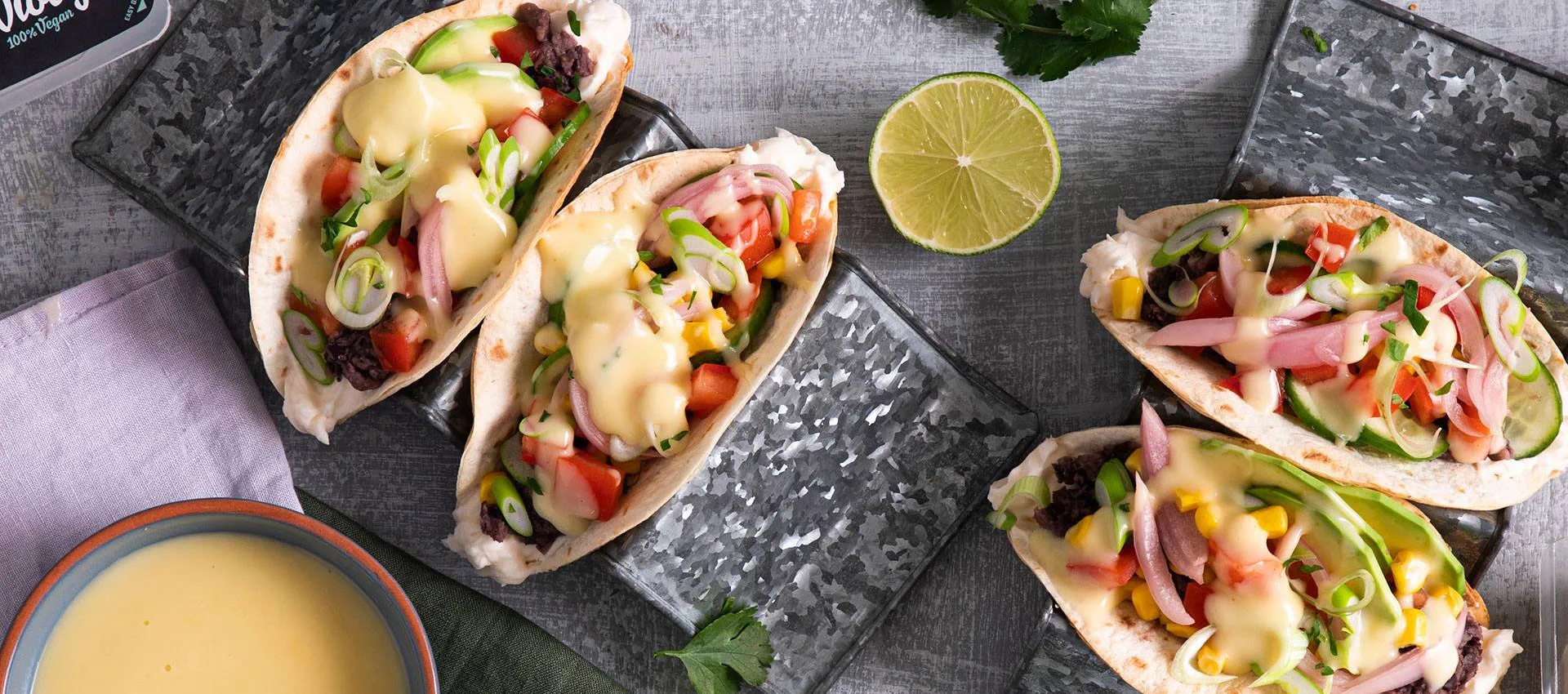 1 can black beans
2 tbsps extra-virgin olive oil
1 tsp ground cumin
2 cloves garlic, minced
½ tsp fine sea salt
FOR THE CREAMY SAUCE:
200 g Violife Creamy Original
2 tbsp lime juice
¼ tsp fine sea salt
Siracha (optional)
FOR THE VIOLIFE SAUCE:
200 g Violife Cheddar flavour block, grated
¼ cup coconut milk
paprika to taste
salt to taste
TOPPINGS:
4 small corn or flour tortillas
1 tomato, chopped
½ avocado, sliced
1 sweetcorn, tinned
1 cucumber, ribboned or sliced
coriander leaves to garnish
Fresh onion, sliced to garnish
In a frying pan sauté with olive oil the cumin, garlic and salt for 1-2 minutes. Add the beans with the liquid from the tin and stir for a further 2 minutes, until the liquid has disappeared. Remove from heat and use a fork to mash well.
To make the creamy sauce combine all ingredients in a small bowl and mix until combined and creamy. Set aside.
Warm the tortillas in a large skillet over medium heat. To make the Violife sauce add all ingredients to a small saucepan and heat until the grated Violife Cheddar flavour has melted, whisking constantly.
To assemble, place the tortillas, spread a layer of creamy sauce on the base, top with the bean mixture, add your choice of veggies and top with the Violife sauce.
Garnish with coriander leaves and fresh onion slices.