Burger with Mac and Cheeze
The best Mac and Cheeze Burger recipe! And it's vegan! Our favourite combo to try with Violife Grated Original and our Cheddar flavour slices. Give it a go!
Prep time

35 minutes

Servings

4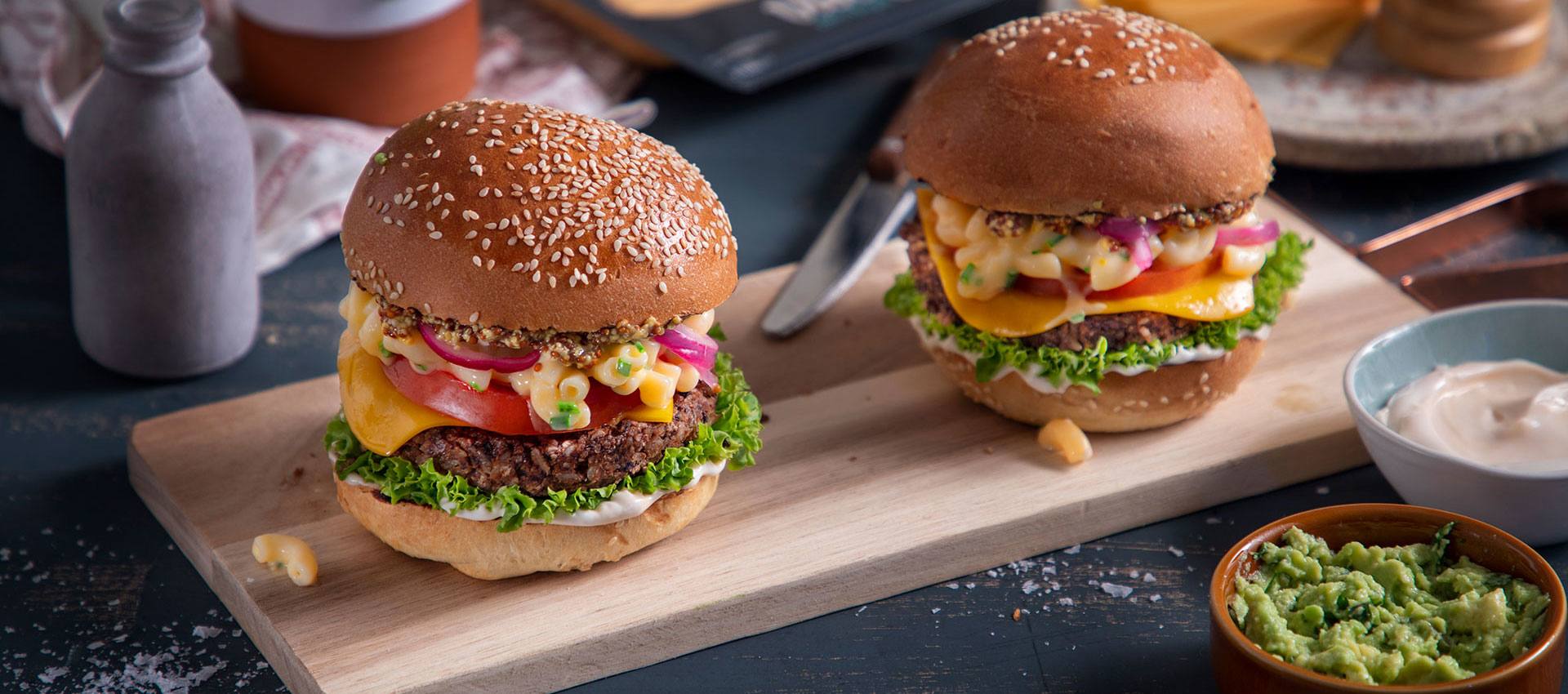 FOR THE MAC AND CHEEZE:
200 g Violife Grated Original
2/3 cup coconut milk
150 g macaroni
4 tbsps chives, chopped
olive oil
salt & pepper to taste
FOR THE GUACAMOLE:
1 avocado, peeled and stoned
½ red onion, finely chopped
1 tbsp coriander, chopped
Juice of 1 lime
FOR THE MEATLESS BURGERS:
400 g tinned Beans, rinsed and drained well
100 g cooked brown rice
1 onion, grated
1 tsp fennel seeds, crushed
½ tsp garlic powder
1 tsp smoked paprika
25 g breadcrumbs
1 tbsp parsley, chopped
TO SERVE:
4 Violife Cheddar flavour slices
4 burger buns
4 tbsps pickled onions
4 tbsp vegan mayonaisse
4 lettuce leaves
4 tomato slices
ketchup & mustard to taste
To make the mac and ch**s*, cook the macaroni according to the packet instructions. Drain and place in a bowl.
Heat the coconut milk in a small pan and add the Violife Grated Original and a bit of olive oil, stirring until it becomes a rich, thick sauce. Season with salt and pepper and stir in the pasta. Add chives and set aside.
To make the guacamole, add all ingredients in a bowl and mash well with a fork.
To make the burgers, add all the ingredients into a blender and pulse until combined. Divide into 4 equal parts and shape into burger patties. Heat a griddle pan on high heat, drizzle with some olive oil and grill patties for 3 mintutes on each side. Top each pattie with a Violife Cheddar flavour slice and remove from heat.
Cut burger buns in half and spread the base with mayo. Top with lettuce, Violife burger pattie, tomato, a dollop of mac and cheese and pickled onions.
Spread the top bun with mustard and cover your burger. Enjoy!