Fig & Greek White Pide
Irresistible Fig & Greek White Pide! Oval-shaped flatbread topped with spinach, figs and Violife crumbled. This vegan appetizer is a real hit!
Prep time

20 minutes

Servings

6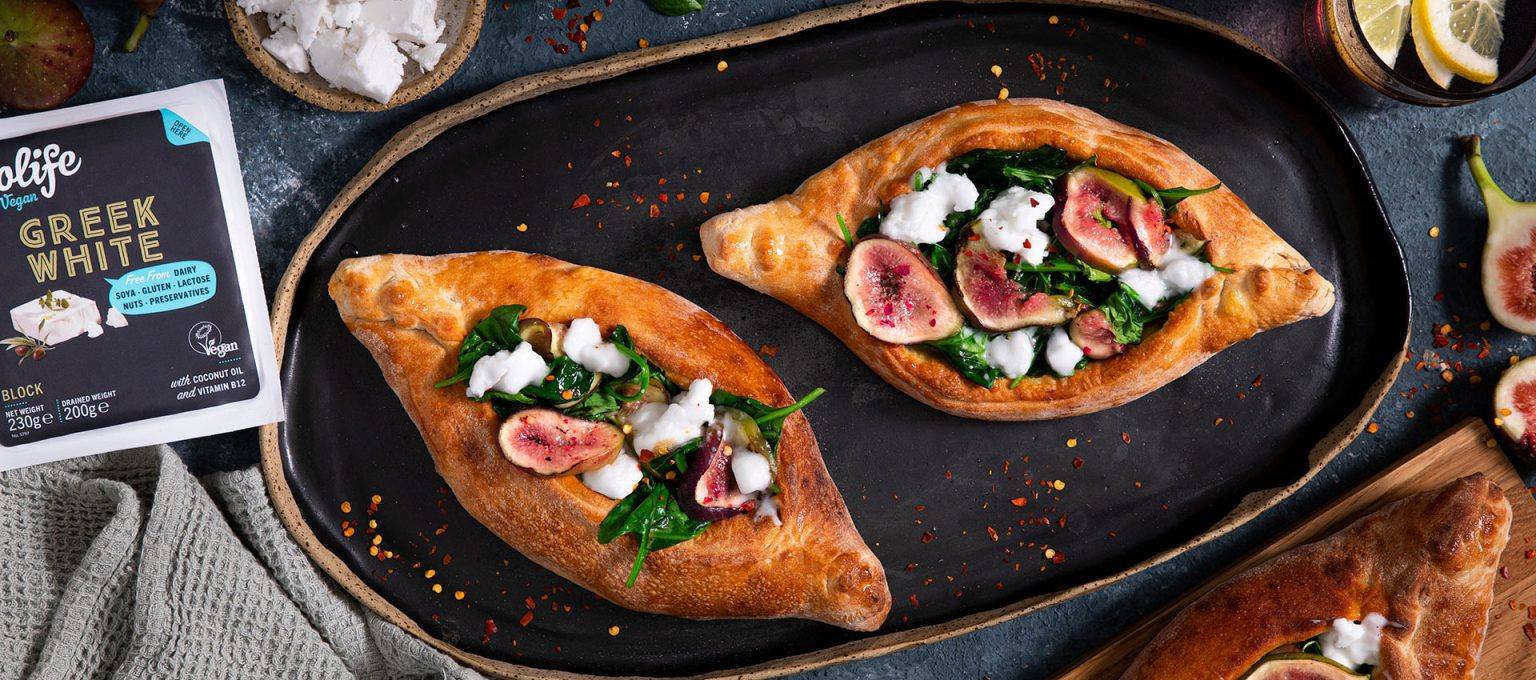 FOR THE DOUGH:
300 g flour
1 tsp sugar
1 tsp salt
1/2 tsp freshly ground black pepper
7 g dried active yeast
150 g vegan yoghurt
FOR THE FILLING:
200 g Violife greek white crumbled
50 g vegan yoghurt
a handful of baby spinach leaves
6 - 8 figs sliced
3 tbsp olive oil
zest of 1 lemon
chilli flakes
Place the flour, sugar, salt, and black pepper in a large mixing bowl.
Dissolve the yeast in some water and add it along with the vegan yogurt, to the dry ingredients bowl. Mix using your hands to form a dough. Cover with a kitchen towel and place in a warm, dry place, until double in size.
Divide the dough into 6 equal pieces and stretch out into oval shapes. Fold the edges in and pinch at the sides to form boat shapes, leaving space in the center for the filling.
Add some vegan yoghurt to the center, top with spinach leaves and fig slices and drizzle with olive oil.
Set aside to double in size once again.
Place on a lined baking tray and in a preheated oven at 200°C for 10 minutes.
Remove from the oven and sprinkle with Violife Greek White crumbles.
Place back in the oven for a further 5 minutes.
Serve while still warm and top with some fresh spinach leaves, lemon zest and chili flakes.