Potato and Mushroom Pierogi
Today's speciality is Potato and Mushroom Pierogi! Easy to make dough with Violife VIOBLOCK filled with melty Violife Epic and Violife Creamy. Delish!
Prep time

1 hour

Servings

2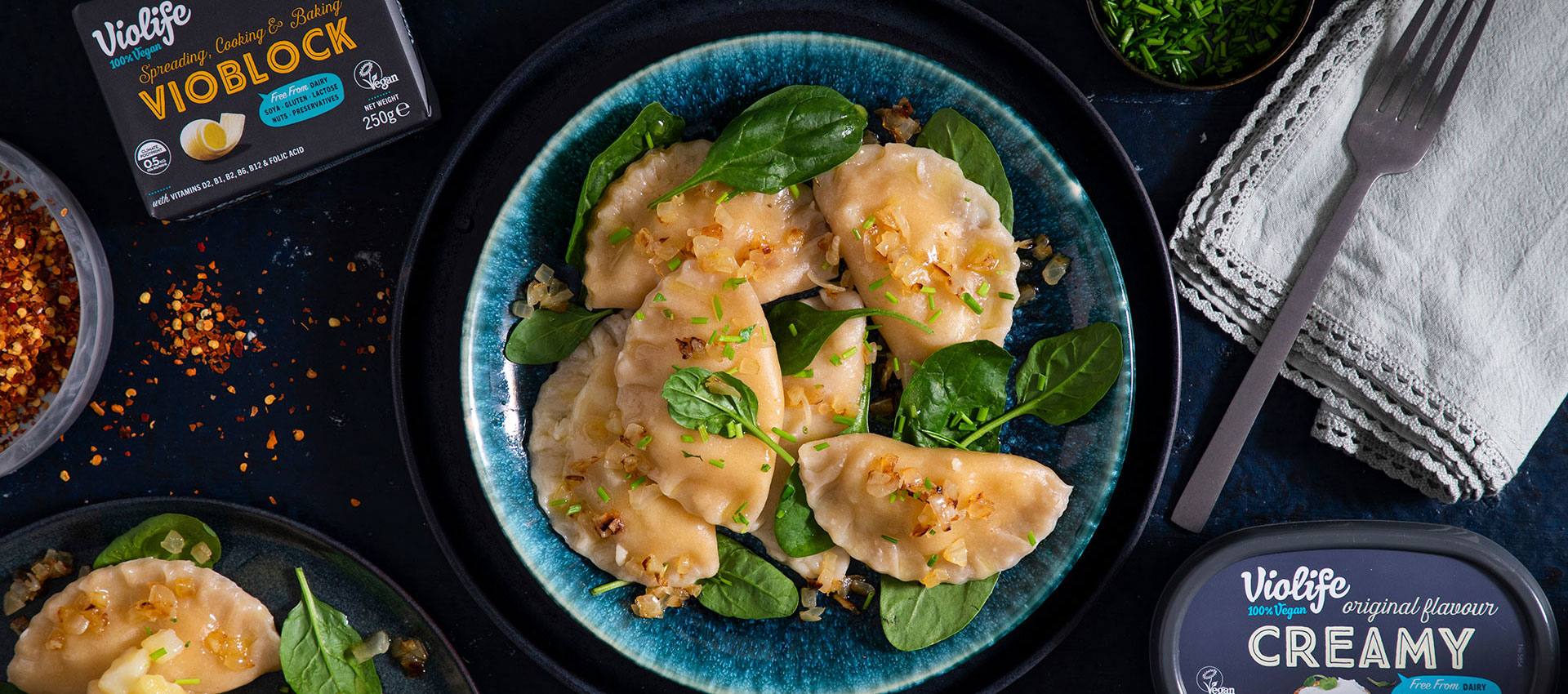 FOR THE DOUGH:
3 tbsp Violife Violife melted
255 g all-purpose flour
1 tsp salt
FOR THE FILLING:
3 tbsp Violife VIOBLOCK
100 g Violife Epic Cheddar flavour block, grated
2 tbsp Violife Creamy Original
250 g potatoes, peeled and cubed
200 g mushrooms, sliced
3 onions, finely chopped
salt and pepper to taste
FOR SERVING:
Fresh chives, chopped
Chilli flakes, for sprinkling
baby spinach leaves
To make the dough, combine the flour and the salt in a bowl and stir. Add the melted VIOBLOCK and stir well until combined.
When a dough starts to form use your hands and transfer to a lightly floured surface and knead until smooth. Cover with plastic wrap and let sit for half an hour.
To make the filling, boil the potato cubes until soft, for about 20 minutes.
In a frying pan heat VIOBLOCK and sauté the onions. Add the mushrooms and sauté for a further 8 minutes. Season well and cook, stirring occasionally for about 12 minutes until golden brown.
Set half of the onion & mushroom mixture aside and place the rest in a bowl. Add the drained potatoes, the grated Violife Epic Cheddar flavour and Violife Creamy Original. Season well and stir with a fork.
Cut the dough in half, leaving the other half covered whilst you work, so it doesn't go dry.
Roll out the dough on a floured surface and use a circular cookie cutter to make circles of dough. You should have around 15 circles.
Fill the circles with a teaspoon of the filling. Use a paintbrush with some water to grease the edges. Fold the dough in half to cover the filling, bringing the edges together to form a half moon. Use a fork to secure the edges.
Repeat with all the dough and filling.
Bring a large pot to a light simmer. Use a slotted spoon to place 5 pierogis in the simmering water. Allow to boil for around 5-10 minutes, until they rise to the surface of the water.
Serve in bowls, topped with the browned onions and the VIOBLOCK sauce, chili flakes and chives.
Add some spinach leaves for freshness!