Stuffed Spinach Ravioli
Italian inspired homemade Stuffed Spinach Ravioli! Make your own ravioli, stuff with Violife Greek White and serve with Violife Prosociano. So impressive and yummy!
Prep time

1 hour 5 minutes

Servings

3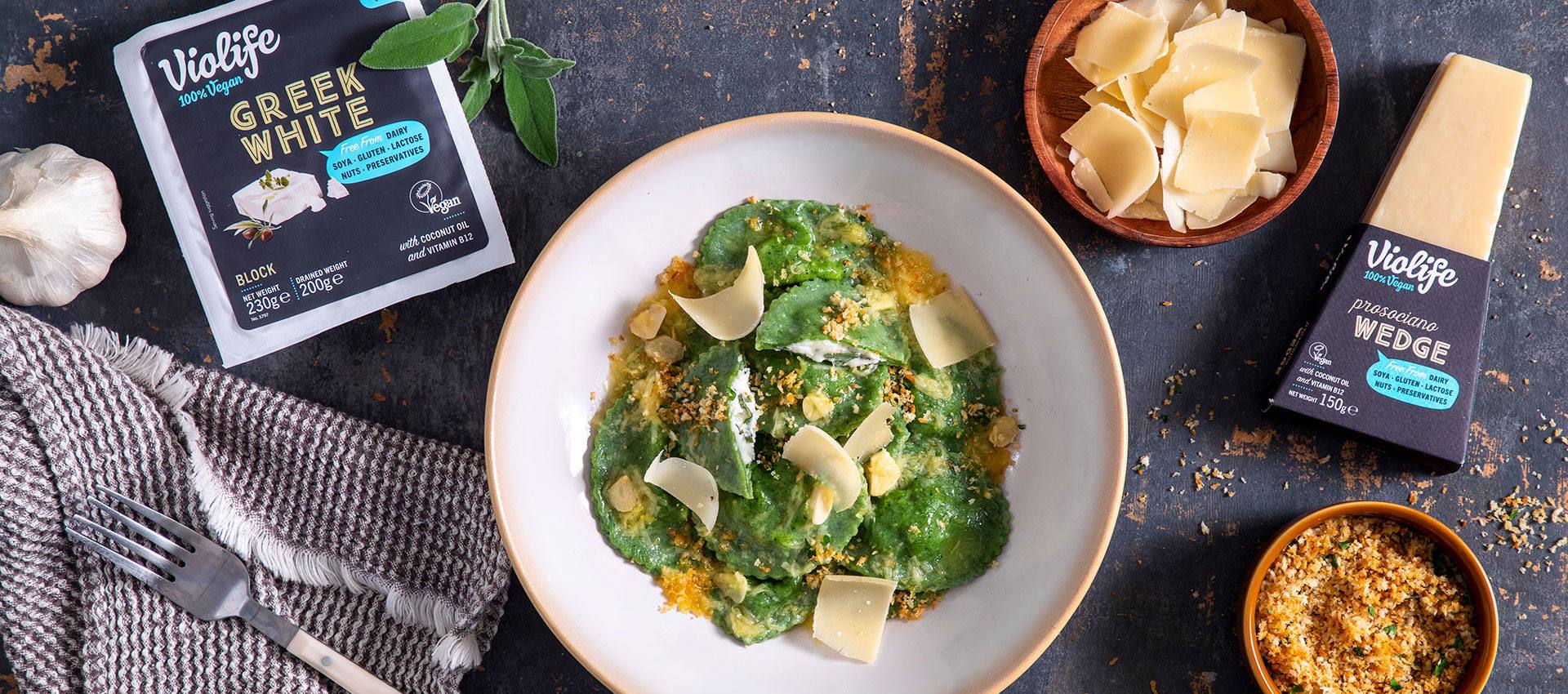 FOR THE RAVIOLI:
250 g flour
250 g Spinach, blanched and blended in the mixer
3 tbsp olive oil
1 tbsp salt
FOR THE FILLING:
200 g Violife Greek White Block
Zest of 1 lemon
Fresh oregano leaves, chopped
Fresh basil leaves, chopped
1 tsp fresh pepper
1 pinch of nutmeg
FOR THE BREADCRUMBS:
3 tbsp olive oil
100 g fresh breadcrumbs
1 lemon zest, finely grated
Handful fresh flatleaf parsley, finely chopped
TO SERVE:
140 g Violife Prosociano, flakes or grated
extra-virgin olive oil
1 lemon zest
salt & pepper to taste
To make the ravioli dough, combine all ingredients in a large bowl and use your hands to form an elastic dough. If it is too dry add a splash of water. Wrap with cling film and place in the fridge.
Meanwhile, make the filling by combining all the ingredients. Set aside in the fridge.
Cut the dough in 6 pieces and form into round balls. Use a rolling pin or pasta maker to make a thin sheet of dough. Use a round cutter to cut small circles.
Fill half of the dough circles with a tablespoon of filling, top with the other half of the dough circles and use a fork to press around the edges, securing the raviolis. Continue the filling process, until you have used up the filling as well as the dough.
Cover with a clean tea towel, whilst you boil some water and prepare the breadcrumbs.
In a large pan heat olive oil over medium heat and add the breadcrumbs, lemon zest, salt and pepper. Fry, stirring for 3-4 minutes until golden. Transfer to a bowl to cool and stir in the parsley.
Boil the ravioli in salted water for 4 minutes until al dente, drain and toss with olive oil.
Serve with sprinkles of breadcrumbs, Violife Prosociano, grated lemon zest, salt and black pepper.