Summer Pita Wrap
Perfect light meal for summertime! Summer Pita Wrap with Violife Creamy and Grill me! will become your new go to recipe for the season. Delicious and vegan!
Prep time

25 minutes

Servings

2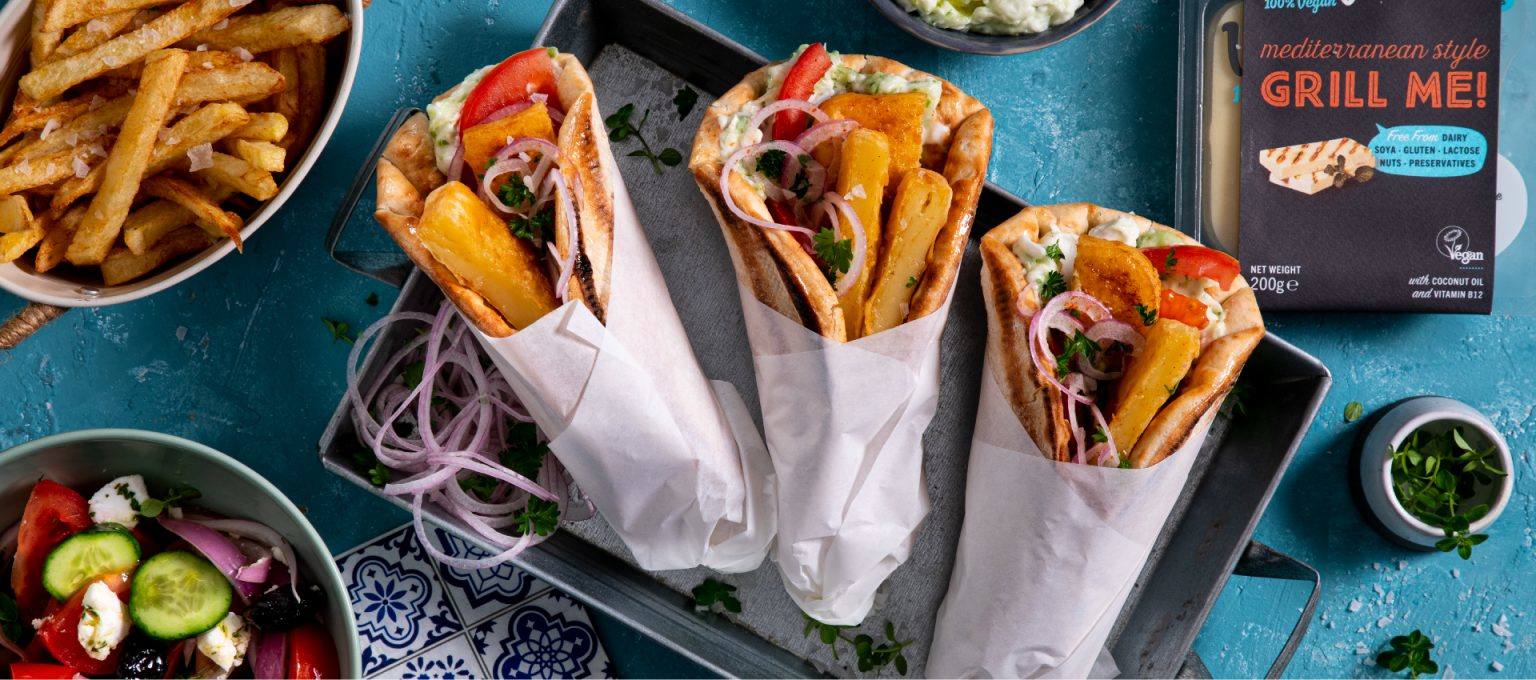 FOR THE TZATZIKI SAUCE:
150 g Violife creamy original
1 small cucumber grated and sieved
1 garlic clove grated
1 tbsp olive oil
salt and freshly ground pepper
FOR THE GRILL ME! SOUVLAKI:
200 g Violife grill me!, in sticks
flour and water for coating
3 pitta breads
1 tbsp olive oil
1 tsp dried oregano
1/2 tsp salt
1 tomato sliced
1 tbsp fresh parsley roughly chopped
french fries
greek salad
To make the tzatziki sauce, add all ingredients in a bowl and mix well. Make sure the cucumber has been sieved well, so that your tzatziki does not become watery.
For the Grill Me! souvlaki, slice Violife Grill Me! into sticks and dip in water, then flour and then in water again.
In a deep frying pan heat vegetable oil and fry the Grill Me! sticks for 2-3 minutes on each side. Remove with a slotted spoon and place on kitchen paper to soak up any excess oil.
Meanwhile, brush the pita breads with olive oil, sprinkle with oregano and salt and place in a preheated oven at 200°C for 5 minutes to heat.
To assemble the souvlaki, spread the pita bread with tzatziki sauce, top with tomato slices, Grill Me! fries, a pinch of paprika, onion and parsley.
Wrap with baking paper halfway and twist at the bottom, folding behind the souvlaki to secure.
Repeat with the other pitas and serve alongside french fries and Greek salad.