The Ultimate Vegan Beyond Mince Lasagna
Have you tried the ultimate vegan Beyond Mince lasagna yet? Get the recipe and prepare this lovely dish topped with the most delicious Violife bechamel.
Prep time

1 hour

Servings

8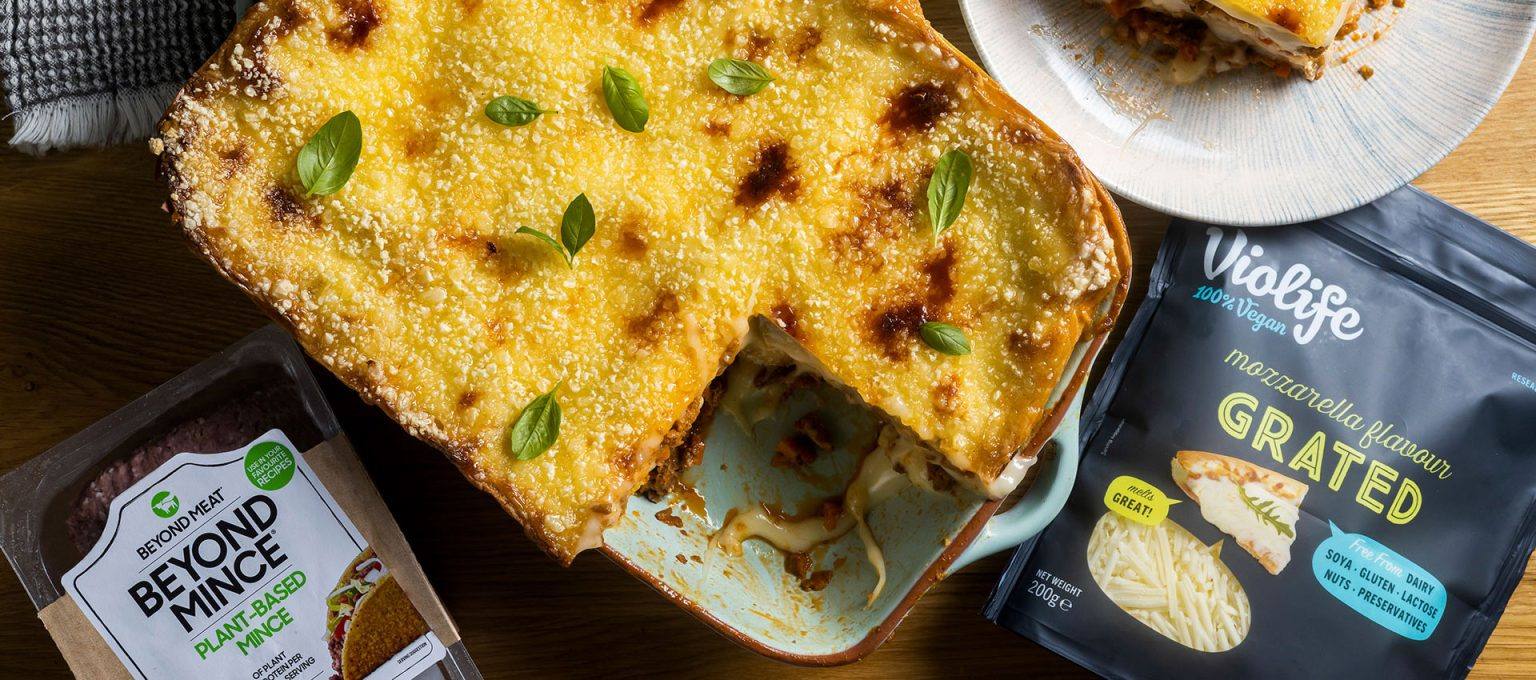 200 g Violife mozzarella flavour grated
12 half cooked lasagna noodles
a handful fresh basil leaves
FOR THE SAUCE:
1 kg Beyond Meat plant based mince
2 tbsp olive oil
1 medium onion chopped
2 cloves garlic minced
1 carrot peeled and diced
1 tbsp tomato puree paste
400 g crushed tomatoes
1 cup vegetable broth
a handful fresh rosemary
a handful fresh basil leaves
1 tbsp sugar
a pinch crushed red pepper flakes
pepper to taste
FOR THE VEGAN BECHAMEL:
60 g Violife vioblock
200 g Violife mozzarella flavour grated
200 g vegan cream
60 g flour
450 g oat milk
1 tsp grated nutmeg
In a casserole dish sauté the onion in olive oil for 4 minutes, stir in the Beyond Mince and break it up with a wooden spoon. Add garlic and carrot and stir until fragrant.
Add in the remaining sauce ingredients. Cover with the casserole lid and turn the heat down, allowing to simmer for 20 minutes.
Meanwhile, to make the vegan bechamel, melt some VIOBLOCK in a saucepan and add flour. Stir until golden and fragrant for abour 2-4 minutes. Pour in oat milk and vegan cream whilst whisking constantly. Add in Violife Mozzarella flavour grated and nutmeg and continue to whisk until melted and creamy. Remove from heat and set aside.
To assemble the lasagna, grease an ovenproof dish and spread some sauce to the base.
Top with a layer of lasagna, sauce, bechamel, Violife Mozzarella flavour grated and another layer of lasagna. Repeat this layering until you have used up all the ingredients and finish up with a layer of bechamel and a sprinkle of Violife Mozzarella flavour grated.
Cover and place in a preheated oven at 200°C for 30 minutes and uncovered for another 20 minutes.
Allow the lasagna to sit for about 10 minutes before serving. Garnish with fresh basil leaves and enjoy!