Vegan Gnocchi
Family favourite festive recipe! Vegan Gnocchi made with purple starchy potatoes and Violife Prosociano flakes on top is a dream come true. Enjoy!
Prep time

40 minutes

Servings

4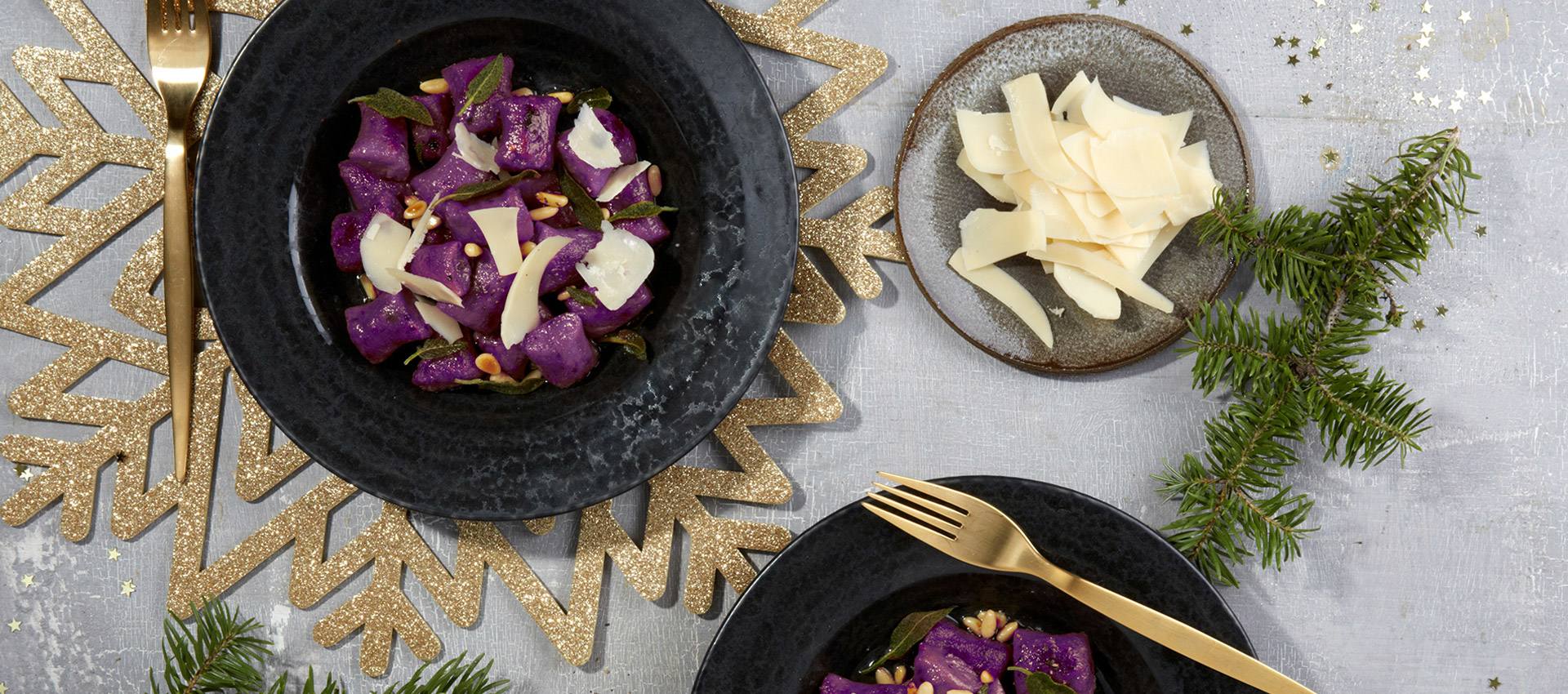 150 g Violife Prosociano
400 g purple starchy potatoes
600 g swede
1 tsp chilli flakes
100 g '00' flour, plus extra for dusting
100 g coconut butter
small pack sage leaves
2 tbsp pine nut
4 tbsp olive oil
salt & fresh ground pepper
Preheat oven to 220°C.
Grate in powder format half of the wedge of Violife Prosociano and cut the rest in flakes.
Peel and cut the potatoes and swede into equal sized chunks and drizzle with 2 tbsp of olive oil.
Place in a baking tray lined with baking paper, season with salt and pepper and roast for 50 minutes or until completely soft. Leave to cool slightly, then pulse in a food processor until broken down. Add the chilli flakes, flour, the grated Violife Prosociano and a bit of salt and pepper. Then pulse again to form a sticky dough.
Bring a large pan of salted water to the boil. Flour your hands and divide the dough in three. On a floured surface, roll each portion into a "roll" about 1 cm in diameter. Using a table knife cut into pieces 2.5 cm in length – this gives a nice texture to the edge of the gnocchi.
Working in batches, drop the gnocchi into the water for 30 secs or until they rise to the surface. Remove with a slotted spoon and drain on a tray lined with kitchen paper.
Heat the remaining olive oil in a large frying pan over a medium heat. Fry the gnocchi in batches for 2 minutes on each side until browned.
Melt the coconut oil in the pan, add the sage leaves and fry until crisp. Divide the gnocchi between bowls then spoon over the crisped sage and buttery sauce. Serve with pepper and Violife Prosociano flakes on top.