Whole Roasted Cauliflower
Discover the ultimate, 100% vegan Christmas recipe: Whole Roasted Cauliflower. Enjoy on Christmas Eve with your loved ones.
Prep time

30 min

Servings

Portions 4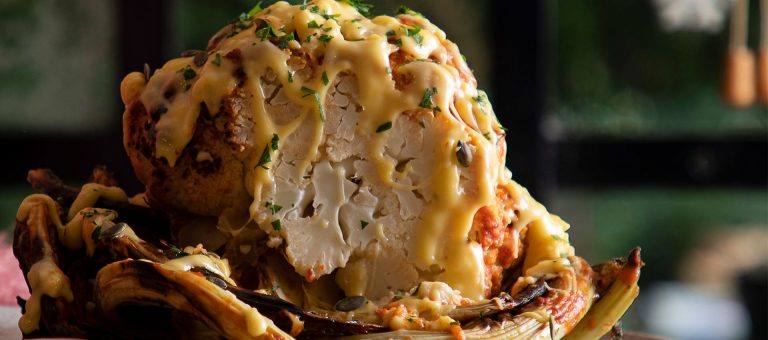 FOR THE VIOLIFE SAUCE:
1 pack Violife Epic Smoked Cheddar Flavour block, grated
1 pack Violife Just Like Cheddar Shreds
7 oz white wine
black pepper
Preheat the oven to 356°F. In a blender mix together garlic, paprika, cumin and half of the thyme leaves. Add olive oil, salt and pepper and mix until a paste is formed.
Cut the bottom of the cauliflower so that it can sit flat and place in a ceramic casserole dish. Use your hands to rub the paprika mixture all over the cauliflower. Add the lemon juice and vinegar and place in the oven, cover with a lid and bake for 90 minutes.
Remove the dish from the oven, pour in the tomatoes, sprinkle over the lemon zest, drizzle with the tahini and the remaining thyme leaves. Bake for a further 10 minutes.
Meanwhile make the Violife sauce by pouring the wine in a small saucepan alongside the grated Epic Smoked block and the Just Like Cheddar shreds. Season with black pepper. Use a whisk to combine until melted.
When a fondue forms, pour over the cauliflower. Garnish with parsley and pumpkin seeds and slice into cauliflower steaks to serve.