Cauliflower Tacos
Prep time

25 min

Servings

Portions 4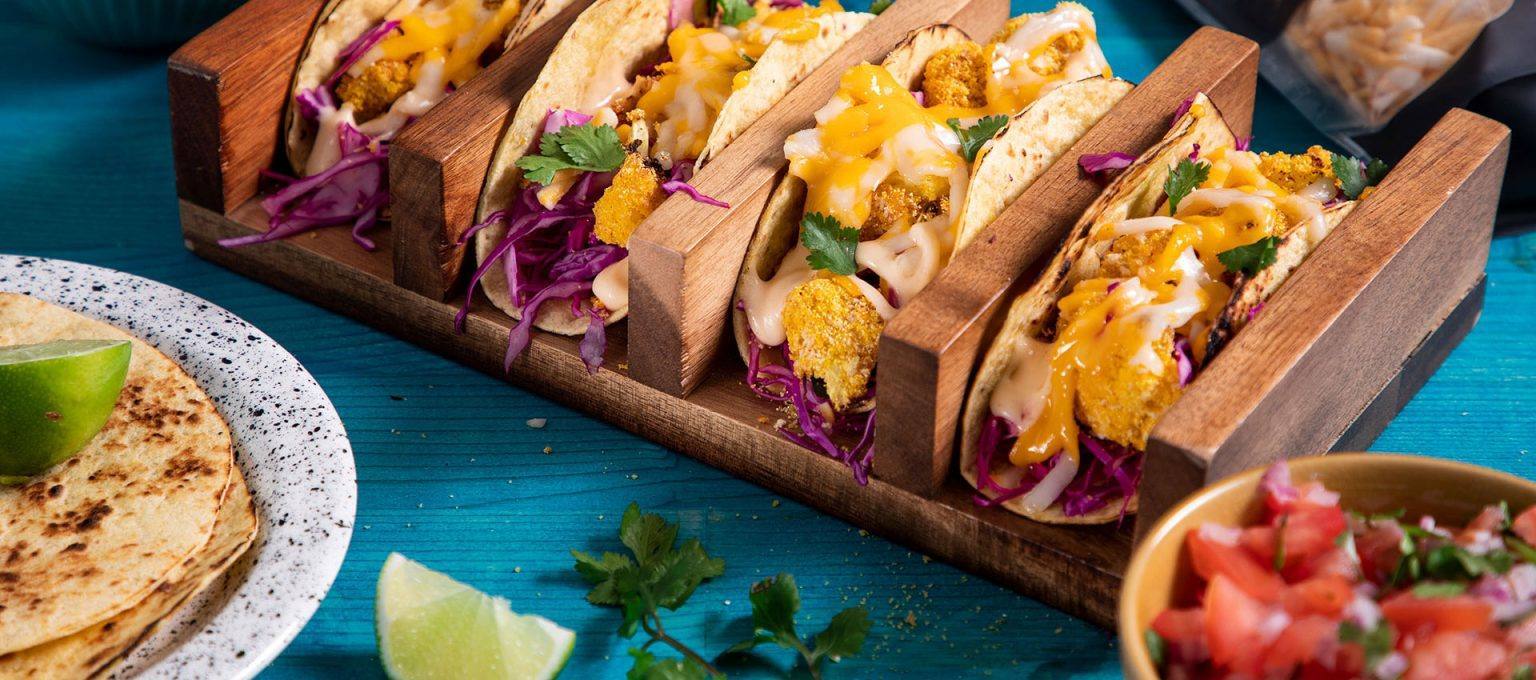 FOR THE CAULIFLOWER:
1 tbsp Violife creamy original
1 cauliflower in florets
1/2 cup panko breadcrumbs
1/2 cup cornmeal
1 tsp cumin
1 tsp paprika
1 tsp garlic powder
1/4 tsp turmeric
salt and pepper
1 tablespoon olive oil
1 tablespoon maple syrup
FOR THE SAUCE:
150 gram Violife creamy original
3 tbsp sriracha sauce
FOR THE CABBAGE:
2 cups red cabbage shredded
juice of 2 limes
1/2 tsp cumin
FOR THE TACOS:
100 gram Violife tex-mex Style shredded
100 gram Violife mozzarella Style Shreds
8 corn tortillas
fresh coriander to garnish
lime wedges
In a small bowl, mix panko, cornmeal, cumin, paprika, garlic powder, turmeric, and salt.
In a separate bowl mix olive oil, Violife Creamy Original and maple syrup.
Dip the cauliflower florets into the olive oil mixture and then dip into the panko mixture. Place on a lined baking tray and repeat with the remaining cauliflower.
Bake for 30 minutes in a preheated oven at 356°F (180°C)
In a bowl mix cabbage, lime juice and cumin and set aside.
Meanwhile, warm the tortillas in a frying pan on both sides.
For the sauce, mix Violife Creamy Original and sriracha sauce with a whisk and add a spoonful to each tortilla. Top with cabbage, cauliflower, Violife Tex Mex Style Shredded and Violife Mozzarella Style Shreds.
Garnish with coriander and lime wedges.