Grazing Platter
This amazing Grazing Platter with Violife is all you need for New Year's eve! Treat your family and friends with fantastic flavours! Happy New Year!
Prep time

18 minutes

Servings

10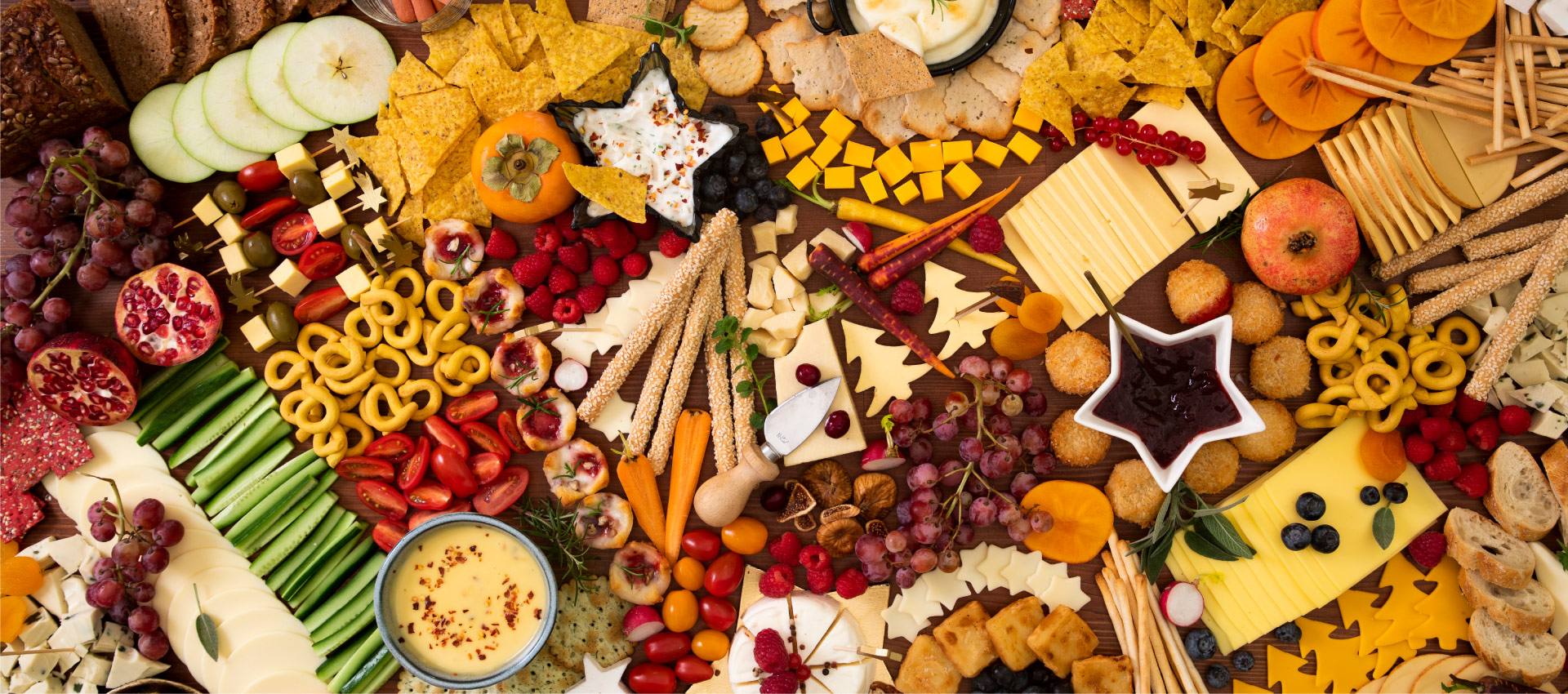 Violife Original flavour slices
Violife Mozzarella flavour slices rounds
Violife Smokey cheddar flavour slices rounds
Violife Creamy - add 2tbsps of paprika and mix to combine
Violife Mozzarella flavour block for pizza
Violife Crumbly blue
Violife Epic Cheddar flavour block
Violife Cheddar flavour block
Violife Grill me
Violife Cheddar flavour slices
Violife Greek White
Violife Prosociano
Violife Le Rond Camembert flavour
VEGETABLES:
baby carrots
Radishes, sliced
blackberries
blueberries
strawberries
cranberries
cucumbers
Nuts of choice
Dried fruits of choice
BREADS:
Bread assortment
Crackers of choice
Breadsticks of choice
You will need Christmas cookie cutters
FOR THE FRIED LE ROND BITES:
150 g Violife Le Rond Camembert flavour
150 g flour
250 ml oat milk
panko breadcrumbs
1 loaf of bread, cubed
Oil for frying
Pamper your loved ones with a festive board using your favourite Violife products!
With the use of Christmas cookie cutters, cut the different products into Christmas shapes, Christmas trees, stars etc.
Fry them, grill them or mix them with herbs and spices.
Accompany with freshly baked bread, breadsticks and crackers.
Add colour and flavour with berries, veggies like mini rainbow carrots, cherry tomatoes and cucumber sticks.
Place the Le Rond in a small skillet and grill in the oven at 180°C for 10 minutes until melted.
Using a round cookie cutter cut Violife Le Rond into small pieces.
Coat by dipping in flour, then in oat milk and last in panko breadcrumbs.
In a shallow frying pan on medium heat, heat olive oil and fry Le Rond pieces for 1-2 minutes on each side.