Shepherd's Pie with Violife Mash Topping
Ideal Easter recipe! Incredibly delicious and vegan Shepherd's Pie with Violife Μash Τopping made with potatoes and Violife Grated Original. HappyEaster!
Prep time

20 minutes

Servings

8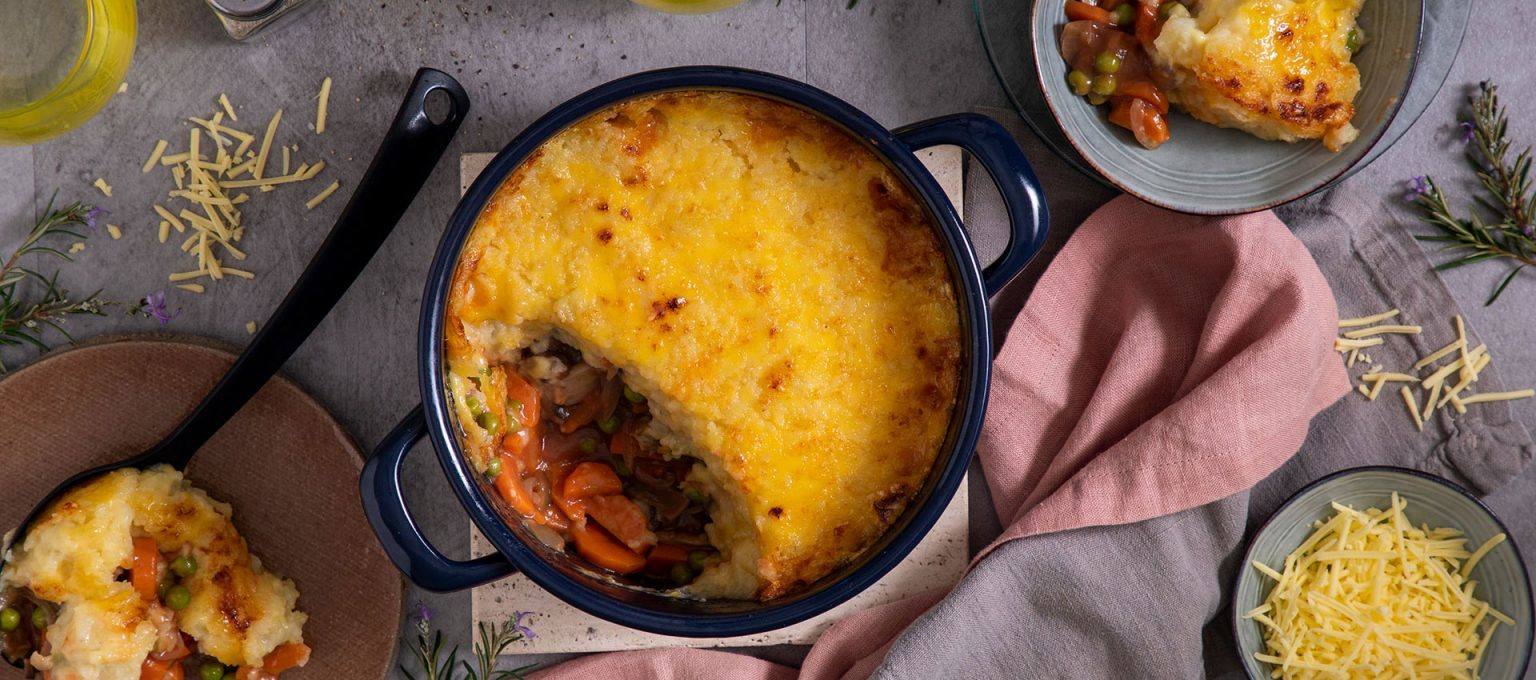 FOR THE FILLING:
250 g fresh mushrooms sliced
200 g frozen peas
400 ml vegetable stock
200 ml red wine
6 carrots peeled chopped
3 onions minced
2 tbsp olive oil
2 tbsp tomato paste
2 garlic cloves diced
1 bay leaf
2 rosemary sprigs
a bunch of thyme
2 tbsp flour
1 tsp salt
FOR THE MASHED TOPPING:
1 pack Violife grated original
6 potatoes peeled and boiled
50 ml olive oil
1 tsp nutmeg
salt and pepper to season
In a large pot, boil the potatoes until fork tender. Drain and mash inside the pot. Add the olive oil and Violife Grated Original, nutmeg, salt and pepper and mash thoroughly until creamy.
For the vegetables, heat olive oil in a large pot. Sauté the onion until soft, add the mushrooms and keep stirring until golden.
Add the carrots, garlic and herbs and stir until fragrant. Add the tomato paste to the pot, along with the flour and mix well. Then pour in the red wine to deglaze, using your wooden spoon to scrape the bottom of the pan.
Allow to simmer for 2 minutes and slowly pour in the stock. Season with salt and pepper and let it simmer for 10 minutes, until the sauce thickens.
Remove the herbs from the pot and add in the peas. Transfer to a baking dish. Carefully spoon over the mashed potatoes and place in a preheated oven at 200°C for 15 minutes. When the mash is golden remove and serve hot.