Spinach & Zucchini Soup
Delicious Spinach and Zucchini Soup; a perfect meal for cold winter days! Ready in minutes with Violife Creamy Original and ViolifeProsociano.
Prep time

5 minutes

Servings

6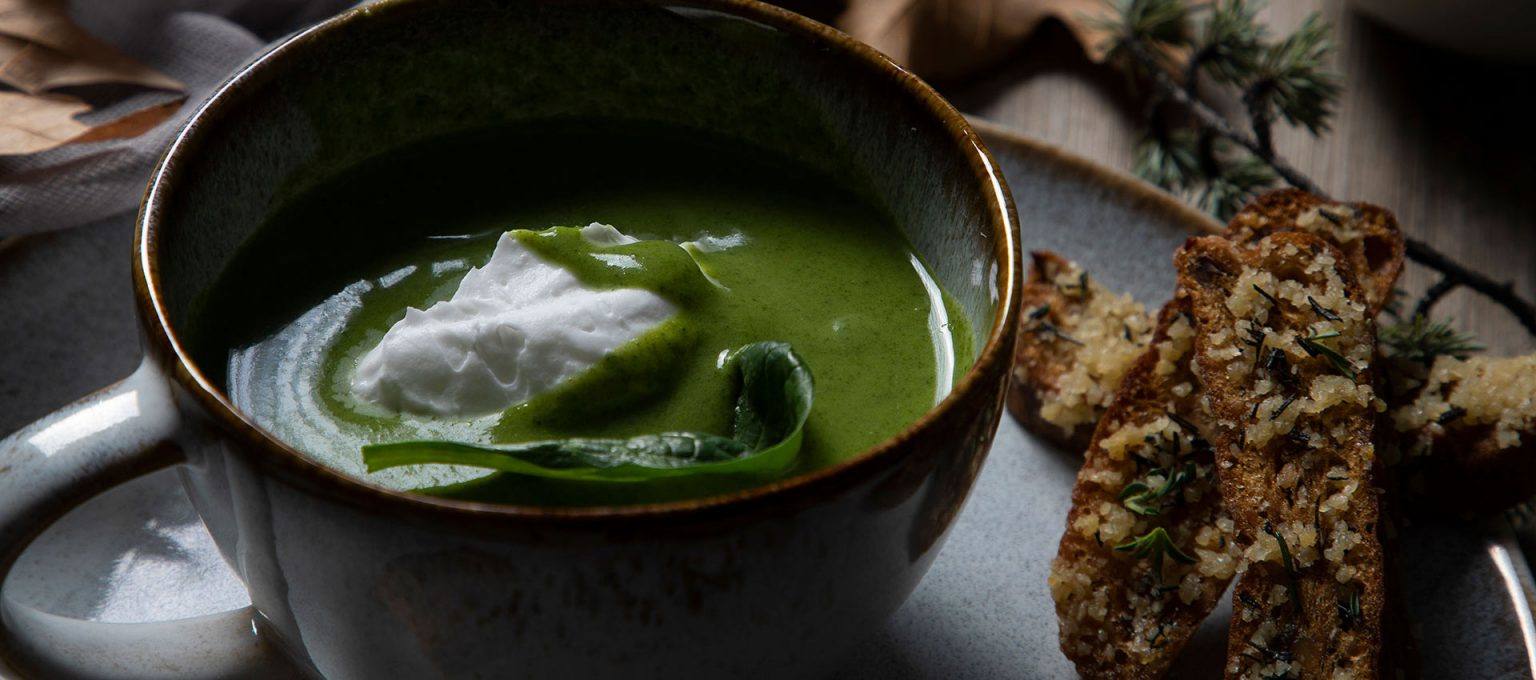 FOR THE SOUP:
1 pack Violife creamy original
400 g fresh spinach
2 large zucchinis cubed
2 medium potatoes peeled and cubed
1 large leek finely diced
1 onion diced
1 green chilli deseeded and finely diced
400 g light coconut milk canned
240 ml water or vegetable stock
2 tbsp coconut oil
1 tsp mild curry powder
1/2 tsp ground cumin
1/2 tsp ground turmeric
salt and pepper to season
coriander and baby spinach leaves to serve
FOR THE BREAD STICKS:
50 g Violife Prosociano finely grated
4 slices of bread of your choice cut in sticks
1 garlic clove
1/2 tsp fresh rosemary
1/2 tsp fresh thyme
1/2 tbsp olive oil
In a bowl mix the bread sticks with olive oil, garlic, rosemary and thyme, tossing until coated.
In a non-stick frying pan heat some olive oil and fry the bread sticks, stirring often, until golden. Set aside on a lined baking tray and sprinkle with the Violife Prosociano while the bread is still hot.
In a large pot eat the coconut oil. Add the onion and the spices and sauté until golden. Add the leek, potatoes, zucchinis and chili and stir. Season with salt and pepper, cover and cook for 5 mins.
Add the water or stock and the coconut milk and simmer for a further 20 mins or until the potatoes are soft. Stir in the spinach until wilted for a further 5 mins. Use a hand blender to blend the soup until creamy. Add half of the Violife Creamy into the soup and mix until melted and incorporated.
Serve the soup with the bread sticks, a quenelle or a dollop of Violife Creamy and baby spinach leaves.