Vegan Gyros
Who doesn't love Greek gyros and tzatziki? Discover this 100% vegan gyros recipe with tzatziki sauce. One pita is not enough!!
Prep time

45 minutes

Servings

4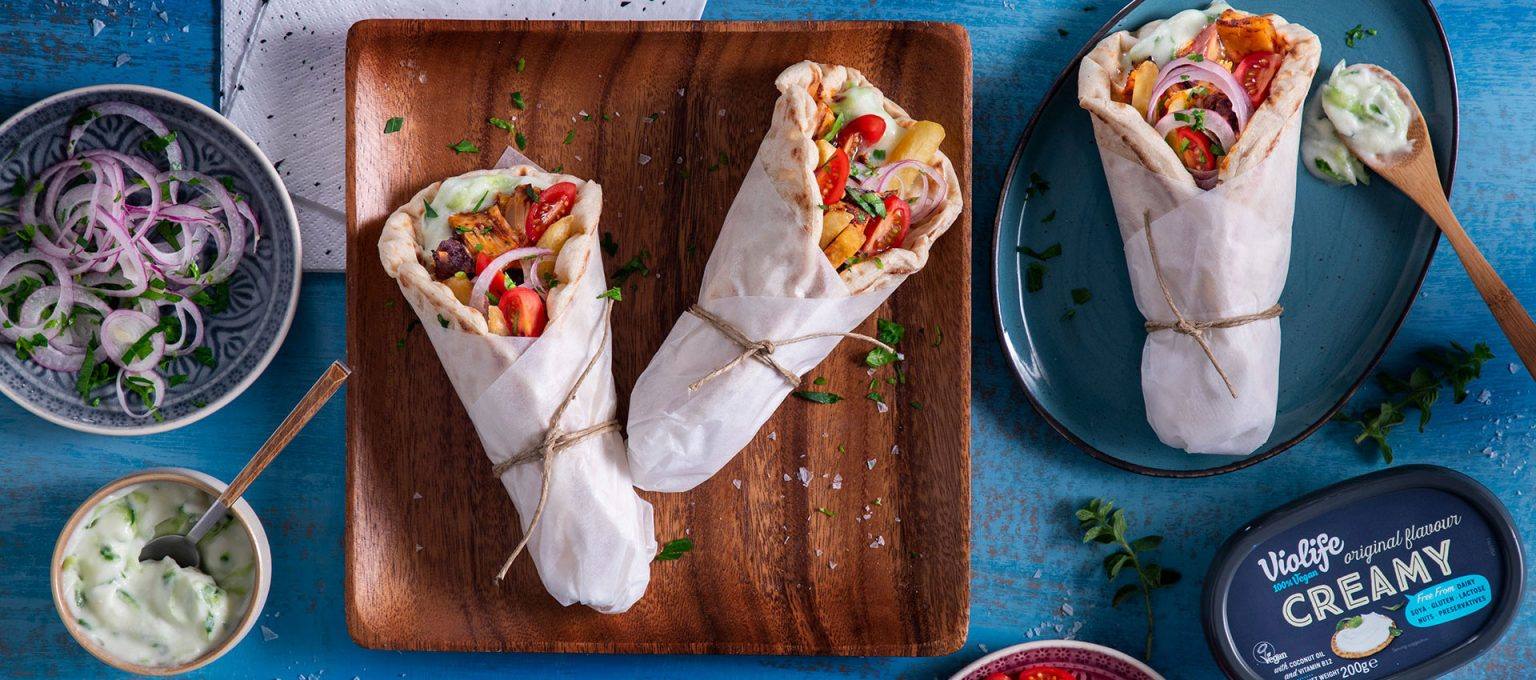 FOR THE JACKFRUIT GYROS:
1 tin of jackfruit
4 tbsp olive oil
1 medium red onion finely diced
2 garlic clove finely diced
1/8 tsp ground cloves
1/4 tsp ground cinnamon
1/2 tsp ground cumin
2 tsp dry oregano
2 tbsp tomato paste
4 tbsp soy sauce
2 tbsp maple syrup
1/2 tsp pepper
FOR THE TZATZIKI SAUCE:
150 g Violife creamy original
2 small garlic cloves
2 tbsp lemon juice
2 tsp apple cider vinegar
1 cucumber grated and sieved
1 tbsp extra virgin olive oil
salt and pepper to taste
Drain the jackfruit and cut into chunks.
In a medium pan heat up olive oil, add the onion until soft for 3-5 minutes and then add the garlic for a further 2 minutes.
Add ground cloves, cinnamon, cumin, and oregano to the onion-garlic mixture and stir until fragrant.
Mix in the tomato paste. Add the jackfruit with the soy sauce and maple syrup and stir to combine. Season with pepper.
Simmer for 10 minutes and set aside.
Spread the jackfruit on a lined baking tray and place in a preheated oven on grill at 180°C for 5-10 minutes, until the jackfruit becomes a little browned around the edges.
To make the tzatziki sauce, add all ingredients in a large bowl and mix well to combine.
To assemble, warm the pita breads in the oven for 2 minutes, spread with a generous amount of tzatziki sauce, top with tomatoes, onion, fried potatoes, jackfruit and some parsley and roll the pita gently securing it with baking paper and string.
Serve with extra fries!