Vegan Hot Cross Buns
We've got the best recipe for Vegan Hot Cross Buns! Trust us, you have to try making these fluffy delicious buns made with Violife. 100% vegan!
Prep time

20 minutes

Servings

12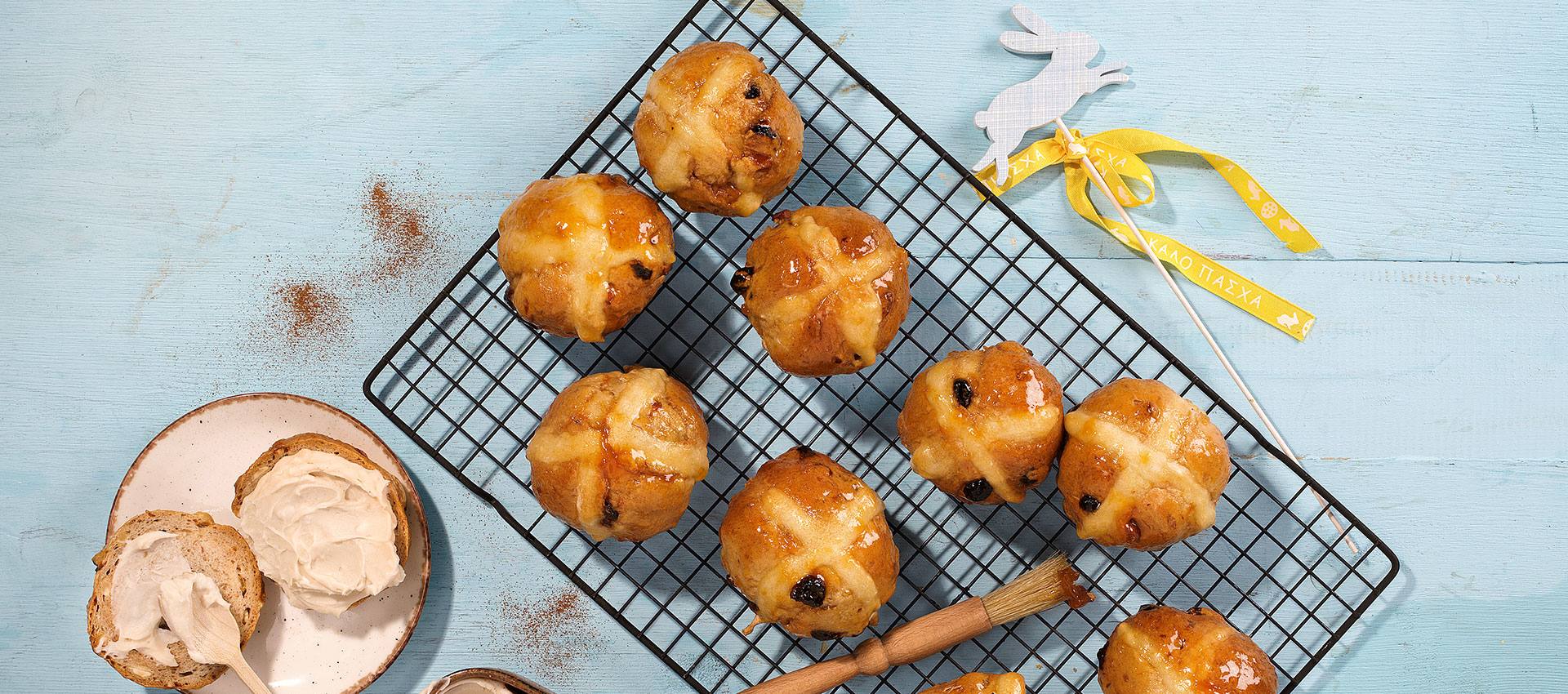 4 cups all-purpose flour
1½ tsp salt
1 pack of instant dried yeast (7g)
3 tbsp and 1 tsp sugar
2 tsp cinnamon
1 tsp nutmeg
½ cup raisins
¼ chopped walnuts
½ banana, pureed
Zest of one lemon
Zest of one orange
½ cup and 1 tsp of unsweetened almond milk
½ cup and 1 tsp of warm water
2 tbsp of olive oil, with extra for coating the buns
HOT CROSS BUN PASTE:
5 tbsp all-purpose flour
¼ cup water
APRICOT GLAZE:
2 tbsp of apricot jam (or your favorite flavor of jam)
1 tbsp of water
FOR THE FILLING:
200 g Violife creamy original
3 tsp caramel syrup
Mix the flour, salt, yeast, sugar, cinnamon, nutmeg, raisins, walnuts, banana puree, and orange and lemon zest in a large mixing bowl. Warm the almond milk, add the warm water and stir into the flour mixture. Then add olive oil and combine. When mixture has taken a dough like form, turn onto a floured surface and knead until smooth. Make the dough into a ball and place in a lightly oiled glass bowl. Cover with cling film and place in a warm place to rise for 1 hour or until doubled.
Divide the dough into 12 equal pieces and arrange on a lined baking tray. Cover and let rise for another half hour until double in size.
Preheat the oven to 180°C. In a bowl mix the flour and water to create the bun paste. Once the dough has risen, using a piping bag create small crosses on each bun.
Bake for 15-20 minutes.
In a small bowl, mix together two tablespoons of jam and 1 tablespoon of hot water.
As soon as the buns are out of the oven, brush each bun with the apricot glaze and let cool on a wire rack. Whisk together the Violife Creamy Original and the caramel syrup.
Cut the buns in half and fill with creamy caramel sauce.