Abendbrot Bruschettas
Try the authentic German Abendbrot Bruschettas with Violife! Make as many variations as you want, all topped with your favourite slices!
Prep time

5 minutes

Servings

3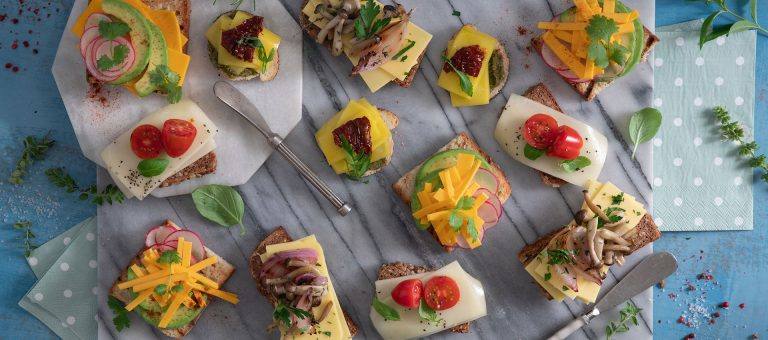 FOR THE ORIGINAL ABENDBROT WITH PESTO, ROCKET AND SUNDRIED TOMATO:
1 pack Violife original flavour slices halved
1 French baguette sliced
5 tbsp pesto
5 sundried tomatoes halved
FOR THE CHEDDAR ABENDBROT WITH AVOCADO, CORIANDER AND RADISH:
1 pack Violife cheddar flavour slices
1 white sourdough bread sliced
2 avocados sliced
5 radishes sliced
coriander leaves
FOR THE MOZZARELLA ABENDBROT WITH CHERRY TOMATOES AND BASIL LEAVES:
1 pack Violife mozzarella flavour slices halved
1 wholemeal multigrain bread sliced
300 g cherry tomatoes halved
basil leaves
FOR THE SMOKED ABENDBROT WITH SAUTÉED MUSHROOMS, PARSLEY AND RED ONION:
1 pack Violife smoked flavour slices halved
1 rye bread sliced
500 g mushrooms of your choice
1 red onion sliced into half moons
1 handful parsley
Slice the French baguette into slices. Spread 1 tbsp of pesto, top with Violife Original Flavour Slices cut in half and 2 sundried tomatoes. Place in a preheated oven at 180°C for 5 minutes until Violife is lightly melted.
Place Violife Cheddar Flavour Slices on sourdough. Top with avocado slices and radishes. Sprinkle with coriander leaves.
Place Violife Mozzarella Flavour Slices on bread, top with cherry tomatoes and place in a preheated oven at 180°C for 5 minutes until Violife is lightly melted. Garnish with basil leaves.
In a frying pan, heat olive oil and sauté mushrooms and onions until browned. Place Violife Smoked Flavour Slices on bread and top with sautéed mushrooms and onions. Sprinkle with parsley and serve.