Rhubarb Cake
This rhubarb cake is going to be your new favourite recipe! It's made with Violife Creamy and VIOBLOCK and it will satisfy all your cravings!
Prep time

1 hour

Servings

8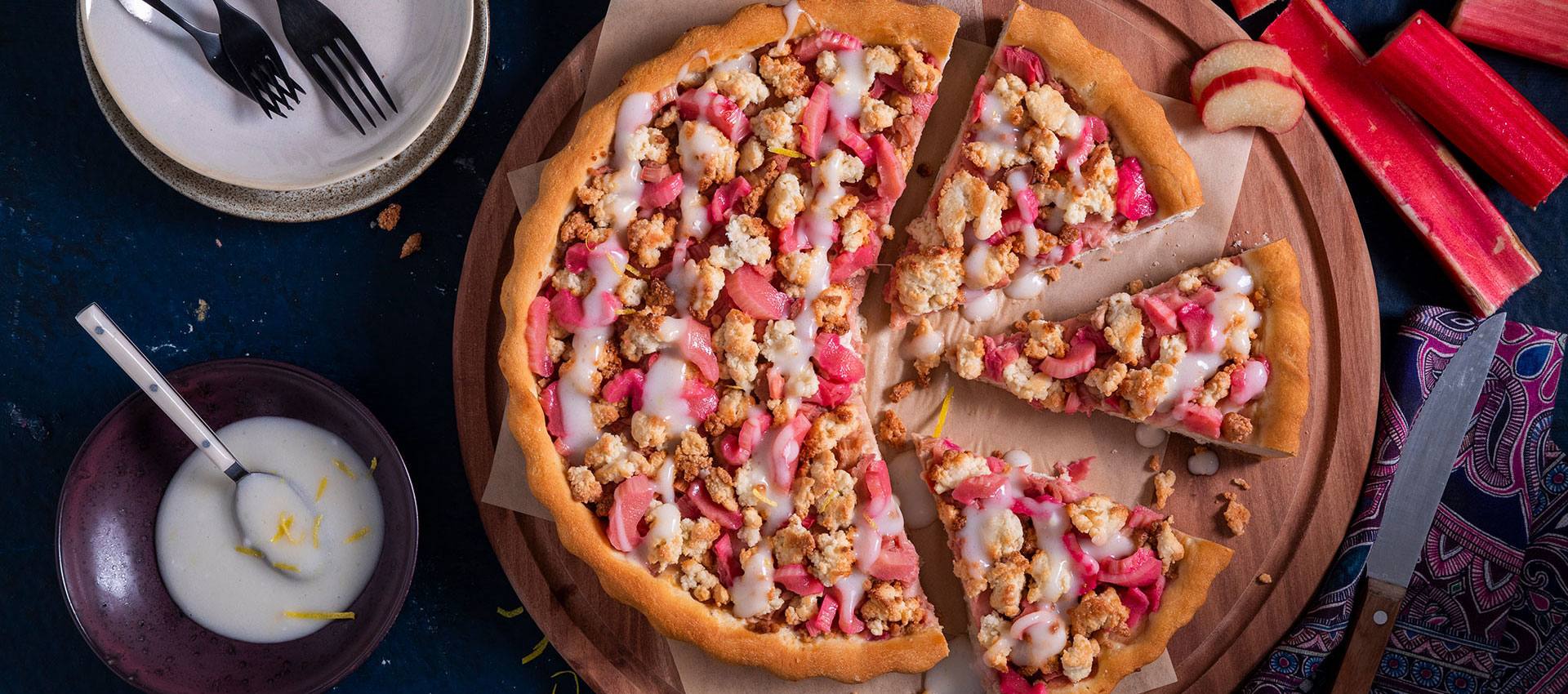 150 g Violife creamy original
180 g Violife vioblock
250 ml coconut milk
60 ml maple syrup
20 g fresh yeast
600 g spelt flour
1 tsp vanilla essence
a pinch of salt
500 g rhubarb chopped
juice of 1 lemon
1 tbsp maple syrup
150 g flour
100 g sugar
1 tbsp coconut milk
sea salt
1 tbsp vanilla essence
lemon zest from 1 lemon
In a small saucepan on low heat, pour coconut milk, maple syrup and VIOBLOCK, until the coconut oil is melted. Add yeast and set aside for 10 minutes.
Pour into a large mixing bowl along with flour, vanilla essence and salt and mix well to combine.
Turn out onto a lightly floured surface and knead for about 10 minutes, until a dough forms.
Place in a greased mixing bowl and set aside to rise.
Using a rolling pin, roll the dough out again on a floured surface into a 30cm diameter circle. Place on a lined baking sheet and cover with a tea towel. Set aside to rise again for 30 minutes.
Meanwhile, to make the rhubarb filling, in a bowl mix rhubarb, lemon juice and maple syrup.
To make the streusel, in a bowl combine flour, sugar, VIOBLOCK, coconut milk and sea salt and crumble using your fingertips.
To assemble, top the dough with the rhubarb filling and then scatter the streusel on top, grating between your fingers. Bake for 30-35 minutes.
To serve, whisk together Violife Creamy, vanilla essence and lemon zest in a bowl and drizzle over the cake.