Unicorn Cupcakes
Magical Unicorn Cupcakes! Enjoy making these stunning colourful little treats with Violife VIOBLOCK and Violife Creamy. Perfect for a themed party!
Prep time

15 minutes

Servings

12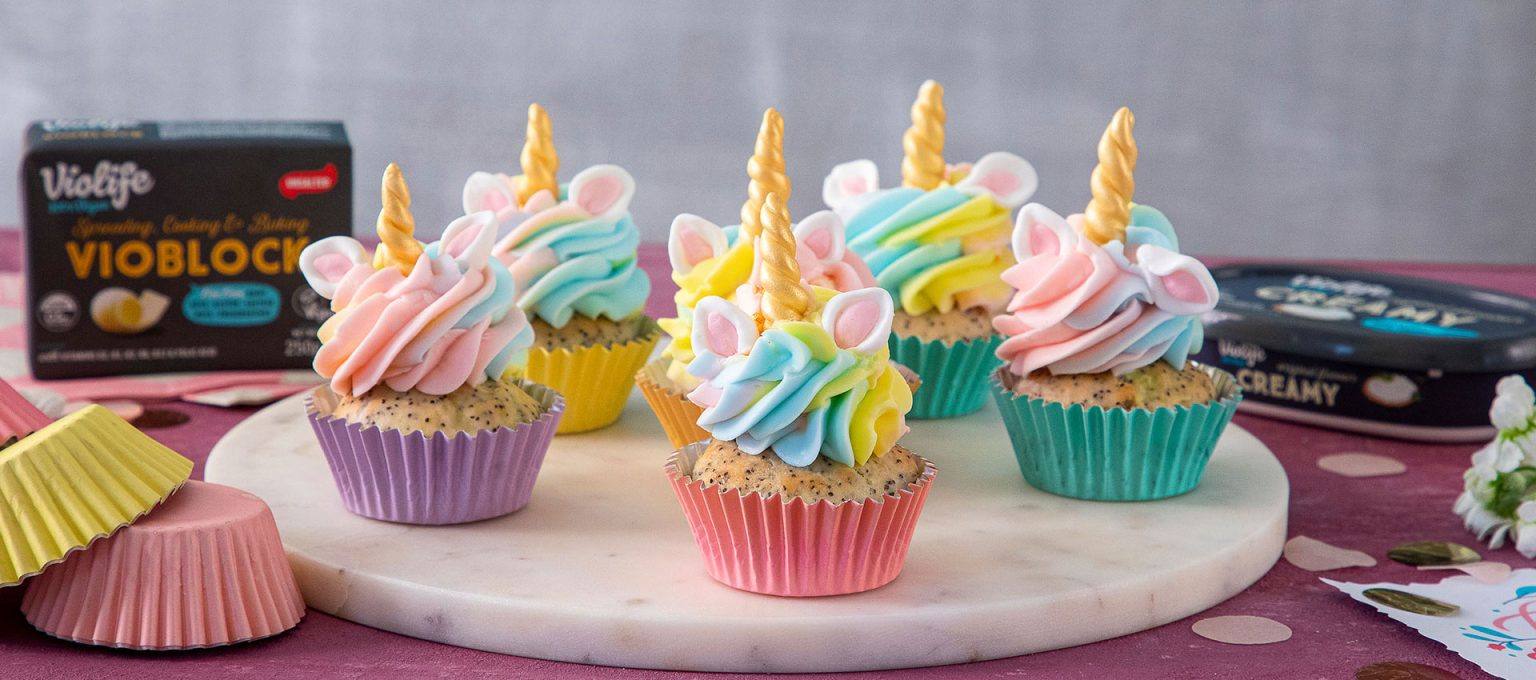 1/4 cup Violife vioblock melted
1 cup oat milk
1 tsp apple cider vinegar
2 cups all-purpose flour
2/3 cup granulated sugar
1/4 tsp baking soda
1/2 tsp salt
2 1/2 tsp baking powder
1 tsp vanilla extract
juice and zest of 2 lemons
3 tbsp poppy seeds
FOR THE CREAMY FROSTING:
150 g Violife creamy original
1/2 cup icing sugar
vegan food colouring
vegan unicorn decorations
Preheat the oven to 180°C.
In a small bowl combine oat milk and vinegar and set aside to curdle.
In another bowl add flour, sugar, baking soda, salt, baking powder, vanilla, lemon juice and zest, poppy seeds and melted VIOBLOCK. Mix well until combined.
Slowly pour in the milk mixture and stir to combine.
Line a cupcake tray with cupcake liners and spoon the mixture into them.
Bake for 18-20 minutes until golden. Set aside on a cooling rack.
Meanwhile, prepare the frosting by whisking together Violife Creamy and icing sugar.
Split into three bowls and add vegan food coloring to make one yellow, one pink and one blue coloured frosting.
Place each frosting colour into a separate piping bag, chopping off the end of each one. Then place all three into one bigger piping bag with a piping tip at the end of it. Secure the top.
Decorate the cupcakes with a swirl of colourful frosting and carefully place unicorn ears and horns. Enjoy!