Smashed Pesto Potatoes
We just love Smashed Pesto Potatoes! It's the ideal snack or appetizer for St Patrick's with our favorite Just Like Parmesan. Family friendly recipe!
Prep time

35 min

Servings

Portions 4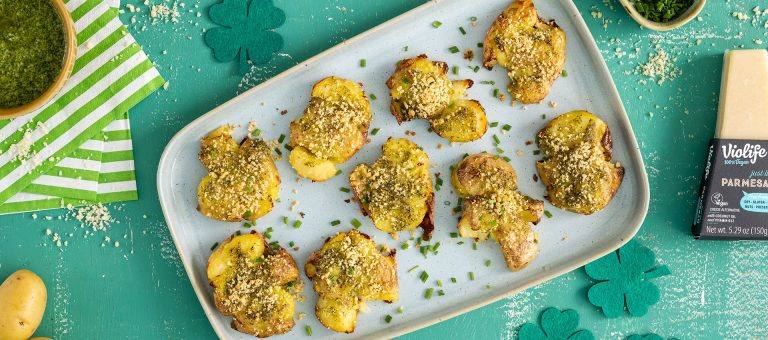 FOR THE PESTO:
150 g Violife Just like Parmesan
50 g basil leaves
2 tbsp garlic cloves
Zest of 1 lemon
juice of 1 lemon
80 g olive oil
FOR THE POTATOES:
1 kg baby or small potatoes
2 tbsp sea salt
8 tbsp olive oil
freshly ground black pepper, to taste
fresh parsley, chives, and green onions, sliced
To make the pesto sauce place all the ingredients in a blender and blitz well. Set aside.
In a pot, boil potatoes in salted cold water until tender.
Place on a baking tray and use a potato masher to squish them one by one, keeping them in one piece.
Coat each potato with a dollop of pesto sauce and spread using a brush.
Drizzle with olive oil and bake in a preheated oven at 200°C for 20-30 minutes, until golden and crisp.
Serve by garnishing with fresh herbs and the remaining pesto sauce.