Vegan Sticky Toffee Pudding
One of our favourite desserts. So irresistible you can't have enough! 100% vegan sticky toffee pudding with caramel sauce. This is a MUST try!
Prep time

20 min

Servings

Portions 10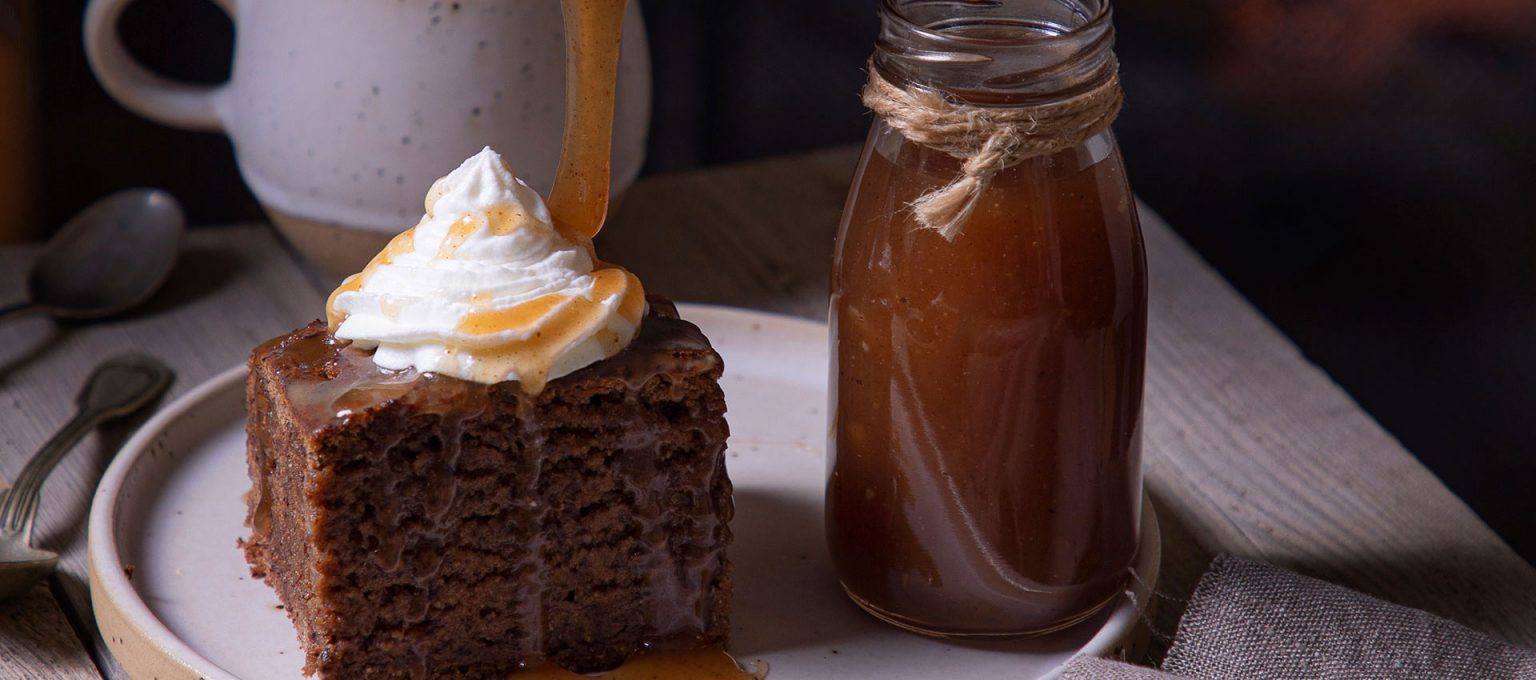 FOR THE PUDDING:
1 pack Violife Just Like Cream Cheese Original
16 oz chopped pitted dates
4 tbsp ground flax seeds
15.5 oz whole wheat pastry flour
2 tsp baking soda
2 tsp baking powder
1 tsp salt
3.5 oz coconut oil at room temperature
2 tsp natural vanilla extract
7 oz cup sugar
FOR THE CARAMEL SAUCE:
1/2 pack Violife Just Like Cream Cheese Original
14 oz brown sugar
3.5 oz coconut oil
1 tsp natural vanilla extract
1 tsp cinnamon
1 tsp nutmeg
4 tsp Bourbon
FOR THE COCONUT CREAM:
12 fl oz coconut milk [The Hard Part]
Line and grease a square baking tin 8.6X8.6 inch.
Chop the dates and place in a small pot with some water, bring to a boil for 5 minutes and set aside for 15 minutes. Sieve and place in a blender alongside the flax seeds, pulsing until smooth.
In a bowl mix the flour, baking powder, baking soda and salt. In a separate bowl use a hand blender or a whisk to combine the coconut oil, the Violife Just Like Cream Cheese Original, the vanilla extract and the sugar.
Add the date and flax mixture and pour in the dry ingredient mixture. Whisk together until combined. Pour into the baking tray and bake at 170°F for 30-35 minutes.
Meanwhile make the caramel sauce by placing all the ingredients in a small pot and bringing to the boil for 3-5 minutes, until the sugar has dissolved and a caramel sauce forms.
Pour the hard part of the coconut cream into a mixing bowl and whisk with an electric mixer until it becomes like whipped cream. Place in the fridge.
Remove the pudding from the oven and use a cake tester or skewer to make holes in the pudding. Pour over half of the caramel sauce. Allow to rest and serve with the remaining caramel sauce alongside the whipped coconut cream.